This page is loaded with the hottest new contemporary romances from my friends and GIVEAWAYS! Scroll down to see all we have to offer, including a giveaway for a $25 Amazon gift card and a signed book!
---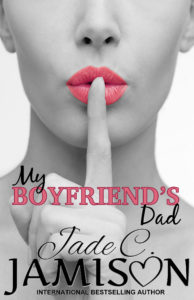 MY BOYFRIEND'S DAD
What I desire is something I shouldn't want…
Everything about my life is crap—except for my relationship with my boyfriend Brendan. He's sweet and thoughtful but maybe too much so…because he won't take what I'm freely giving him: my body.
On my eighteenth birthday, Brendan's dad Logan pulls me into an embrace that seems to last longer than it should, setting my mind racing with desire and thoughts of forbidden deeds, things I shouldn't crave. The last man I should want is my boyfriend's dad—and yet I can't get him out of my mind. Of all the guys in the world, Logan is the one male off limits to me.
Except this older man is in my every lustful thought, driving me to distraction.
I think I could get over this crush—except I discover his feelings for me are not so innocent, leaving me torn between loyalty and desire…
Buy on Amazon
Buy on B&N
Buy on iBooks
Buy on Kobo
Buy on Google Play
---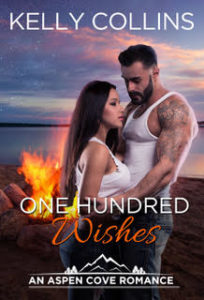 ONE HUNDRED WISHES
Pop star Samantha White walks off the stage and disappears into a crowd of cheering fans. After ten years as the music sensation known as Indigo, she needs to figure out who she really is.
With her manager pressuring her to sign a new contract, Samantha runs to the only place she remembers with fondness—Aspen Cove—a small town that embraced twelve-year-old Samantha when she and her mother finally left her abusive father.
She's sure a few weeks of peace in a secluded cabin will be exactly what she needs to figure out where to go from here. But when Dalton Black storms into her life, Samantha realizes she may not get the clarity and calm she's seeking. If she plays her cards right, she'll get something better—love.
Dalton Black doesn't ask for much. But then, he knows most people would say he doesn't deserve much—not after spending six years in prison for killing a man. He's carved out a quiet life in Aspen Cove where he knows who is friend and who is foe. Just when he's accepted his life will be a string of meaningless relationships, he meets Samantha White and everything changes.
Can a famous singer find her forever with an ex-convict? Or will the secrets they keep tear them apart? Find out in One Hundred Wishes.
Buy on Amazon/Kindle Unlimited
---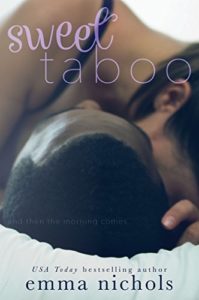 SWEET TABOO
Three short weeks together. Three long years apart. Then fate threw us together again.
DeSean
I thought I was doing the right thing when I stuck out my broken marriage because of my unborn child, but hurting Tegyn was wrong. For the last three years, I've watched over her from afar, but I've been given a second chance. She needed a bodyguard, and there was no body I wanted to guard more than hers.
Tegyn
I never expected to see him again. We'd ended our relationship and I'd reluctantly closed that door, but when danger landed on my front step, DeSean was the first person to have my back, my front, and if I wasn't careful…my heart.
Buy on Amazon/Kindle Unlimited
---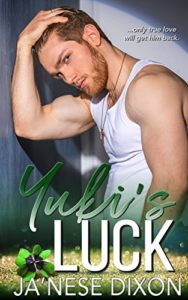 YUKI'S LUCK
He's stolen her heart, it'll take luck to get it back.
Just her luck, one evening after too many shots, Yuki wakes naked tangled in Dylan's expensive sheets. Yuki Smith doubts her mother's judgment on men, life, and definitely on naming her "lucky."
Dylan Jameson is her twin's best friend and all the things she's not. Filthy rich, focused, and drop-dead gorgeous. And beneath it all, he is a really great guy. Then he messed it all up by asking for what she could not give, commitment.
Dylan heads to Ireland, somehow he took her luck with him. Now Yuki must board a plane to god-knows-where, to encounter god-knows-what, hoping for a chance to tell Dylan the truth. Because he's captured her heart and something tells Yuki she'll need luck to get him back.
Buy on Amazon/Kindle Unlimited
---
GET A FREE BOOK (or stories) JUST BY JOINING OUR NEWSLETTERS!
JA'NESE DIXON: Get four free stories for signing up!
KELLY COLLINS: Get a free copy of Tempo for signing up!
JADE C. JAMISON: Get a free copy of Rock Bottom for signing up!
---
ENTER THE GIVEAWAY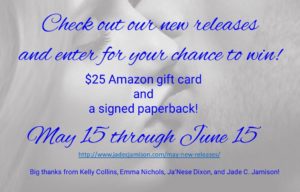 You could win one of these books, signed by the author: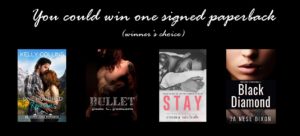 Can't see the giveaway below?  You can also enter here: https://www.jadecjamison.com/giveaways/may-2018/