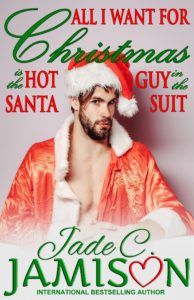 All I Want for Christmas is the Hot Guy in the Santa Suit
(a holiday novella)
Jade C. Jamison

Release date: December 6, 2017
Genres:  Contemporary romance
Audience:  18+ due to sexual situations and adult language
Blurb
All I wanted for Christmas was for my little boy to be happy…so I took him to meet Santa Claus in the mall, and he could tell the jolly man all of his wishes and hope that they would come true.
But it was also magical for me…because it turned out that the guy in the Santa suit was HOT. Underneath the white hair and beard and padding was a guy that could melt my panties with a look.
The danger was that he had the potential to melt my heart…
Links
Amazon: https://www.amazon.com/dp/B077YSQVTS
Barnes & Noble: http://www.barnesandnoble.com/s/2940158719950
iTunes: https://itunes.apple.com/us/book/id1322106400
Kobo: http://bit.ly/2kvkHbc
Google Play: http://bit.ly/2BJzjXv
Amazon UK: https://www.amazon.co.uk/dp/B077YSQVTS
Amazon CA: https://www.amazon.ca/dp/B077YSQVTS
Amazon AU: https://www.amazon.com.au/dp/B077YSQVTS
Excerpt
"Do you want some coffee to go with the brownies?"
"I don't dare. Coffee would keep me up all night."
I smiled but kept my comments to myself while suppressing a hysterical giggle. My dirty mind had wanted to say something naughty and suggestive, something like I'd love to keep you up all night. It had been way too long since I'd been with a man and I had no idea how to be forward anymore—and I didn't know that I wanted to with JD. We'd been having fun and getting to know each other.
Sex might ruin that.
He smiled back, his dimples denting his cheeks, and closed the gap between us. Thank heavens he didn't ask what I'd been grinning about. I said, "Well…they'll take about forty-five minutes to bake, but they're totally worth it. They taste best fresh right out of the oven, though I know that would offend a lot of bakers out there."
"Let 'em be offended."
I could barely breathe. The heat I was feeling wasn't coming from the oven. It was emanating from his tight bod. "What do you want to do in the meantime?" My strength of my voice withered as my brain dumped a shitload of chemicals into my bloodstream. "Wonder what we could do while we wait…"
Holy hell. He must have been thinking the same damn thing I had, because our eyes locked then and I could feel a kind of electric buzzing between our bodies, like lightning was poised to strike. His pupils were dilated inside those cool blue irises but he seemed as calm as a lake on a lazy summer morning as he brought his hand up and brushed my cheek. His words, incongruous with his actions, almost confused me. He licked his lower lip and mumbled, "I'm the guest, so I don't want to make any assumptions…or anything of that nature."
What a gentleman. How would he feel about me if he knew I wanted to grab his shirt in my fists and beg him to fuck me like a horny teenager?
Well, I'd been coy and demure and had behaved up to this point, but his hand on my cheek served as an impetus for my inner naughty girl. "I have a couple of ideas…"
Link to first chapter: Chapter One of All I Want for Christmas
***
If you need any other info, please don't hesitate to email Jade (or use the contact form) and she will get back with you ASAP.  Thank you for your interest!