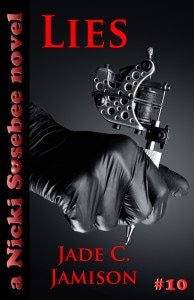 Lies
(Nicki Sosebee #10)
Jade C. Jamison
BUCKLE UP!
Genres: Romantic Suspense, Contemporary Romance, Erotic Romance
Audience: 18+ due to sexual situations, adult language, and sexual abuse
Don't have your copy yet?  Here are the places where it's live (and I'll update this post when it goes live elsewhere!):
Amazon: http://amzn.to/1SbdkOP
Amazon UK: http://amzn.to/1OZ3Yii
Barnes & Noble: http://bit.ly/1Qp3O5r
Kobo: http://bit.ly/24v20l0
iTunes: http://apple.co/1KZ4rWD
Blurb
From here on out, the Nicki Sosebee series is getting darker.
BUCKLE UP.
Like a dog with a bone, Nicki cannot help but continue to pursue realtor-turned-politician Gina McCafferty as the woman persists in making her play for Winchester's open City Council seat. But Nicki is learning over and over again that there is more than meets the eye when it comes to her fair city. Meanwhile, her personal life is topsy-turvy, and a tattoo artist named Hunter makes Nicki's life a living hell.
Alliances are tested. Lines are drawn. And events are set in motion that will play out in deadly ways…
Excerpt
"Something wrong?"
Nicki realized she was gritting her teeth—not making noise or anything, but definitely clenching them so that her jaw was tense. "Oh, sorry." She swallowed. "Maybe today I should just get my nose pierced."
What? She'd lost her mind.
No, this was good. Change was good. Especially now.
Hunter nodded. "That's not a bad idea. You've got a good nose for it." She snorted then and peals of laughter flowed from her mouth. He gave her a puzzled look.
"Sorry. I write part-time for the Tribune, and my boss has told me I have a nose for news." She laughed again and he forced a smile. "Sorry. I really have had way too much to drink. Maybe I should leave."
He touched her forearm. "No, you're fine. You're just a bit giddy, and that might be due to a little adrenaline flowing through your veins."
"Adrenaline?"
"Yeah, as you prep yourself for a little pain."
"Oh…how bad does that hurt?"
He flipped his hand, palm up, grinning and shrugging, and then he shook his head. "I've never had my nose pierced, so I don't know. Piercing itself, though? Kind of depends on where you're getting pierced and what your pain tolerance is. I had a shitload to drink before I got pierced, and it didn't hurt at all."
"You have a piercing? Where?" Nicki couldn't see any holes anywhere—not on his ears or face. Maybe his nipples?
He grinned again, standing and extending his hand to her. "A guy's gotta have a few secrets. Come on. Let's go get you prepped."
Praise
"Excellent new addition to the series and definitely now one of my favorites!" ~ Sue Banner
"Way intense read…NICKI IS BACK!!" ~ Angie J, Twinsie Talk Book Blog
Series Info (additional purchase links below)
1 Got the Life
2 Dead
3 No Place to Hide
4 Right Now
5 One More Time
6 Lost
7 Innocent Bystander
8 Blind
9 Fake
10 Lies
RELEASE DATES OF THE REMAINING BOOKS TO BE ANNOUNCED:
11 Dead Bodies Everywhere
12 Wake Up
13 Alive
Purchase Links for Series Books
Nicki Sosebee Foursome (books 1-4)…ON SALE TODAY!
Amazon: http://amzn.to/VaenU7
Amazon UK: http://amzn.to/1kUdBqq
Barnes & Noble: http://bit.ly/1nG0Vhq
Kobo: http://bit.ly/1ur64Qw
Nicki Sosebee Foursome 2 (books 5-8)…ON SALE TODAY!
Amazon: http://amzn.to/1kuKmtO
Amazon UK: http://amzn.to/XTRx4N
Barnes & Noble: http://bit.ly/1oU4jtJ
Kobo: http://bit.ly/1TJXnQk
Got the Life (Nicki Sosebee #1)
Amazon: http://amzn.to/1bq7m8T
Amazon UK: http://amzn.to/1l2p19U
Barnes & Noble: http://bit.ly/1fkxjGp
Kobo: http://bit.ly/1uwa8BM
iTunes: http://bit.ly/1nr11jG
Dead (Nicki Sosebee #2)
Amazon: http://amzn.to/MeW2QZ
Amazon UK: http://amzn.to/1eYBdQB
Barnes & Noble: http://bit.ly/NeOAGi
Kobo: http://bit.ly/1mDxLWo
iTunes: http://bit.ly/1vpywTy
No Place to Hide (Nicki Sosebee #3)
Amazon: http://amzn.to/1bPkeG0
Amazon UK: http://amzn.to/1bPitsi
Barnes & Noble: http://bit.ly/1l2suFk
Kobo: http://bit.ly/1DCMq6L
iTunes: http://bit.ly/1sLY5d1
Right Now (Nicki Sosebee #4)
Amazon: http://amzn.to/1ebbcxe
Amazon UK: http://amzn.to/1h1ic4A
Barnes & Noble: http://bit.ly/1hz51ek
Kobo: http://bit.ly/1ur6uGK
iTunes: http://bit.ly/1w4E8VH
One More Time (Nicki Sosebee #5)
Amazon: http://amzn.to/1d5OUxr
Amazon UK: http://amzn.to/1cuF6A9
Barnes & Noble: http://bit.ly/1meNjvk
Kobo: http://bit.ly/1rj4WhQ
iTunes: http://bit.ly/1nUYOrf
Lost (Nicki Sosebee #6)
Amazon: http://amzn.to/Ofhwz2
Amazon UK: http://amzn.to/Offuiq
Barnes & Noble: http://bit.ly/1fkxQYX
Kobo: http://bit.ly/1nTXXMS
iTunes: http://bit.ly/1q5kgv1
Innocent Bystander (Nicki Sosebee #7)
Amazon: http://amzn.to/1BrkYHU
Amazon UK: http://amzn.to/1DNjrjA
Barnes & Noble: http://bit.ly/1pzQoW1
Kobo: http://bit.ly/1o3bj9Q
iTunes: http://bit.ly/10JajgQ
Blind (Nicki Sosebee #8)
Amazon: http://amzn.to/1oooHjz
Amazon UK: http://amzn.to/1094TLA
Barnes & Noble: http://bit.ly/1uwl6Hs
Kobo: http://bit.ly/1EagVTI
iTunes: http://bit.ly/1zoZa2X
Fake (Nicki Sosebee #9)
Amazon: http://amzn.to/MJ3Tq6
Amazon UK: http://amzn.to/1cosH3d
Barnes & Noble: http://tinyurl.com/ph9slh7