Get your fill of rocker romance. My weekly picks for you!
Please be sure to check each site before buying as prices may change.
Don't miss a thing! If you'd like to receive a weekly email with this information, you can subscribe to my newsletter: https://www.subscribepage.com/JadeCJamison
And if you love your rockstar book boyfriends almost as much as life itself, be sure to check out this AWESOME ROCK STAR (ROMANCE) MERCH!
Deals for Wednesday, February 1, 2023
FEATURED ROCKSTAR ROMANCE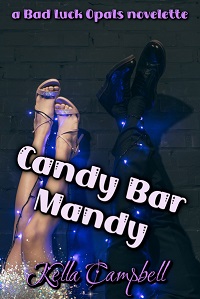 Candy Bar Mandy (Bad Luck Opals), Kella Campbell
She was a legendary groupie in the 1990s. He was a rising star.
Now the Bad Luck Opals are being honored with a Lifetime Achievement Award at the Rockstars' Ball Music Awards gala, after more than three decades of rock stardom, and Mandy is mostly retired from her groupie life — except for Zam. Because it's always been Zam for her.
Groupie, girlfriend, lover, more… How do two people who've always lived and loved without lines and definitions accept that they're meant to be permanent?
99c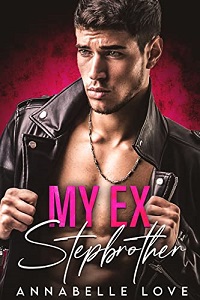 My Ex-Stepbrother (Off-Limits Love), Annabelle Love
One kiss. What's the harm?
Except he's my ex… my ex-stepbrother.

I promised my dad I'd help him flip his old house.
I didn't expect my ex-stepbrother to be holed up inside…

I never thought I'd see him again.
Not after our parents divorced after only 6 months together.

He became a rock star.
Tall, dark, constantly shirtless… and completely off-limits.
I became a writer.
Quiet, shy, and suddenly finding attraction off the page… with him.

We live in two totally different worlds.
Two worlds trying to push us apart.

But I can't deny this attraction…

I think I'm falling for my ex-stepbrother.
LOTS OF FREE!!!

Ends February 28
SPICY WINTER READS
Another promo with lots of freebies to fill your ereader!
Although there are plenty of steamy contemporary romances in this promotion, you'll find a few rocker reads if you scroll. Rockstar romances with stories by Kenyatta LeBlanc, Jade Allen, and more.
Searching for your next favorite rock star romance? Find it HERE!
PAST DEALS:
Deals for Wednesday, January 25, 2023
NEW RELEASE
Bright Melody (Bold Melodies #2), Heather E. Andrews
Release date: 12/29/22
In the middle of the storm, she is the sunshine.
Can a bad-boy rock star overcome his rough reputation to gain the respect of his colleagues? Can a hometown sweetheart make her dreams come true in LA?
Will falling in love threaten everything?
Travis
A leaked sex tape. A bitter ex-girlfriend. An angry record label.
Nobody was happy with me right now.
My band was going on hiatus to weather the fallout. The label slotted me as a judge for Hidden Voices to recoup my reputation.
I didn't expect to find Jody singing behind the veil, her voice warming my soul, her soft body calling to me.
But I can't get involved with a contestant if I'm a judge, or my reputation and my career could bomb.
Jody
Music was the light of my life, the link to my late mother, the energy in my veins, the sun in my sky.
People stopped and paid attention when I took the stage with my little garage band at the local biker bar. I might not be LA famous, but in Savannah, I was a rock star. If I wanted a shot at the big leagues, I had to tame my attitude and insecurities, or the industry would eat me alive.
Then, Hidden Voices had blind auditions in my area, and Momma D told me I had to go. So off I went, ready to follow my dreams, even if I crashed and burned in the arms of a forbidden judge.
99c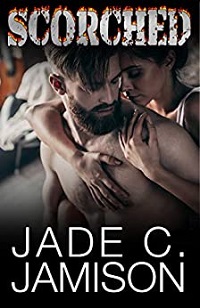 Scorched (Feverish #2), Jade C. Jamison
ON SALE FROM 1/23-1/29/23
When you play with the Devil, you're going to get burned.

When Sam Archer, bad boy rock star, decides to move out of the city and do some soul searching, the last thing he expects to find is his new neighbor Gracelyn Ward. She's everything he's not—19 years old, religious, and an obedient child—but he finds himself falling for her anyway.

Gracelyn Ward has always had a crush on Sam—who hasn't? But she never thought he would be moving next door to her family and end up being so…likeable. Sam is everything Gracelyn's parents never wanted for her, not to mention that he's over 30. Despite her better judgment, it's not long before she's falling in love and beginning to question everything she's ever held dear in her life.

When her parents give an ultimatum, Grace and Sam are torn between desire and obligation. Will they succumb to the fire or will they get scorched by the flames?
FREE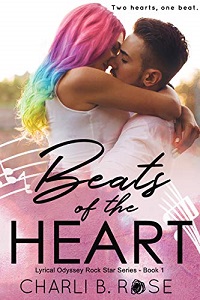 Beats of the Heart (Lyrical Odyssey #1), Charli B. Rose
FREE only from 1/23-1/27/23
Before they can have a second chance, they have to live through their first love… and heartbreak.

Izzy ~
We shouldn't have taken the risk. We should've stayed just friends. Best friends. But only friends. But our hearts were foolish. I'd loved him forever. So, three years ago when he offered what I always longed for, I grabbed it with both hands. But I couldn't hold on tight enough. The beauty of love blinded me. I didn't see it coming. Didn't expect to lose everything. My friend. My heart. My art. My privacy. All of them casualties of love lost.

Dawson ~
Every beat of my heart sang her name. She was my muse. Without her, there'd be no music. I was riding the high of fame and fortune. I had it all—status, money, her. Until the thing I'd always wanted cost me the thing I'd always needed. Love's song drowned out all the warnings. Now she was gone. So was the music. So was my will. I was left with only silence.

What happens when two hearts sharing one beat fall out of sync?
Deals for Wednesday, January 18, 2023
NEW RELEASE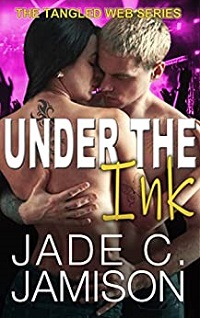 Under the Ink (Tangled Web #6), Jade C. Jamison
Release date: 1/17/23
99c during release week!
Naomi has been surviving but not living. Even with her best friend's marriage looming in the distance, she's managed to maintain a tenuous grip.
The bottle helps with that.
But when she loses her job, she worries that she'll never get out of the godforsaken town she's been trapped in her whole life.
Although she finds salvation in a temporary position as Sage's drum tech for the first part of Shock Treatment's upcoming tour, she hadn't counted on Sage being intrigued.
Or becoming mutually attracted.
Besides, it would never work. Because if he were to see the real her, if he were to discover all that's under the ink covering her flesh, he would never want her.
Fortunately, Naomi excels at pushing people away…
The entire TANGLED WEB SERIES is on sale January 17-21.
99c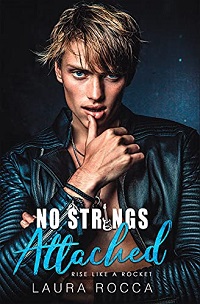 No Strings Attached (Rise Like a Rocket #1), Laura Rocca
Skylar Allen is only five years old when Jaxon arrives at the orphanage where she has spent her whole life.
For the first time ever, she has someone to love, a friend who protects her and encourages her. Skylar and Jaxon become inseparable – until the day Jaxon is adopted.
Before leaving the orphanage, he promises Skylar that he'll write every day but, after a year, Skylar is forced to face the truth: Jaxon has forgotten about her.
She still believes that when, eighteen years later, they come face to face in the lobby of the hotel where she works.
Things have changed over the years, however: Jaxon is now lead singer of The Blind Spot. His dreams of becoming a rockstar have come true, while Skylar feels like a failure: injury shattered her dreams of becoming a figure-skating champion.
Jaxon is no longer the boy she knew all those years ago, however; he's brash and arrogant and Skylar is more than happy when he fails to recognize her.
Jaxon Mitchell is nine years old when he arrives at the Laporte orphanage after a family tragedy. There he meets little Jas and together they dream of a life far away, and putting a smile on Jas's face becomes Jax's purpose in life.
When he is adopted and taken to the other side of the country, he spends his days waiting for Jas to answer his letters, but the mailbox remains empty, and he is forced to admit that his new mother was right after all; Jas wants nothing more to do with him.
It's not until seventeen years later that he discovers that those letters were never sent.
As soon as he gets a break in his busy schedule, he books a vacation at Giant Ridge ski-resort in Minnesota, not far from the orphanage where he spent that fateful year with Jas, hoping to find her. Unfortunately, he finds no trace of his childhood friend, who seems to have vanished into thin air.
Almost on the point of giving up and returning to his hectic lifestyle in New York, Jaxon meets Skylar, an aerobics instructor who is not even slightly impressed by his fame. Despite the animosity, however, there is something about her that reminds him of little Jas.
He knows they are two different people but there's a chance she may be the only woman who can teach him how to love again.
99c on pre-order; release date 1/27/23
LOTS OF FREE!!!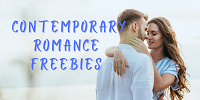 Ends February 14
CONTEMPORARY ROMANCE FREEBIES
Fantastic promo with lots of freebies to fill your ereader!
Although there are plenty of "regular" contemporary romances, you'll find a few rocker reads if you look with stories by Evie Kady, Jade Allen, and more.
Searching for your next favorite rock star romance? Find it HERE!
Deals for Wednesday, January 11, 2023
NEW RELEASE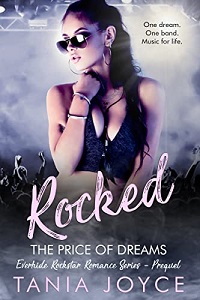 Rocked – The Price of Dreams (Everhide), Tania Joyce
Release date: 11/14/22
I was twelve when my father abandoned me and left me with my gold-digging mother.
At high school, my two best friends, Hunter and Kyle, became my world.
Music united us. Bound us together.
We shared the same dreams . . . to become rockstars and to get out of this God forsaken town.
But the people who were supposed to love us, didn't.
Those who were supposed to encourage us, thought we were wasting our time.
Some hurt us beyond repair.
One horrific night threatened to destroy everything we worked so hard for.
But we refused to give up.
We were determined to take on the world.
We wanted to create something no one had never seen before. Become one of the biggest bands on the planet.
But would our messed-up home lives tear us apart?
Would our friendship and love for each other stand the test of time or would our battered souls and broken hearts sabotage all our hopes and dreams?
From the moment we played our first note together, nothing could've prepared me for the path that lay ahead.
99c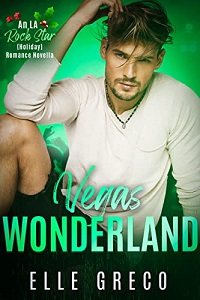 Vegas Wonderland (L.A. Rock Star Romance), Elle Greco
It's Vegas, baby!
Vivienne Darling is totally stoked. She just landed a dream gig assisting LA's hottest stylist, getting dancers and VIPs ready for the opening party of The Stardust Hotel on the Vegas strip. Well, okay, her boss is dressing the VIPs.
But still…it's the gig of the freaking century! It was big enough for her to quit her survival job and spend the days leading up to Christmas at the hottest hotel opening Vegas has seen in years. What she didn't realize was her #1 crush Jack Casey — now the most sought-after DJ in the electronic dance scene was headlining this gig.
But it would be Vivienne's luck that Jack would hand-pick her to be his stylist, bypassing her boss completely. With Vivienne stealing her boss's starry client, her career might be over before it even begins.
But Vegas has a way of working holiday magic. Will Vivienne find her happily ever after with Hollywood's reigning prince? Or will she return to LA with her reputation shattered?
FREE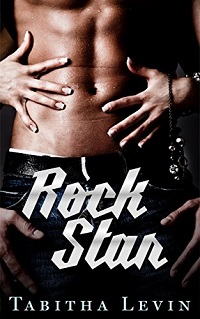 Rock Star (Rock Star #1), Tabitha Levin
Journalist Lauren Miller never gets involved with the talent. Not even when they are as hot as the lead singer of The Soft Burns, Stark Stone. Except when Stark ends up in her hotel room naked, she's not going to knock back that gift. No one has to know, it'll be one night.
Stark can't get the fiery journalist out of his head. First there's the sex – oh god, the sex. No wonder he can't concentrate on his career. The guys will understand, he has needs and Lauren fulfils every one of them. Except things are getting serious and rock stars don't do serious. It'll ruin his reputation and maybe his sanity as well. He'll have to break it off before someone gets hurt. If he can.
If you'd love getting this list delivered straight to your inbox every week, subscribe to my weekly newsletter: https://www.subscribepage.com/JadeCJamison
Deals for Wednesday, January 4, 2023
FEATURED ROCKSTAR ROMANCE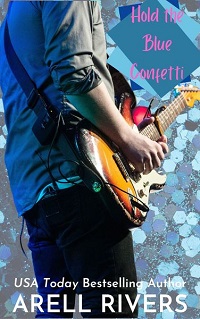 Hold the Blue Confetti (The Hold Series), Arell Rivers
When rock star Cole Manchester juggles his growing family and a charity concert for the history books, things take an unexpected turn.
Rock star Cole Manchester is living large. His songs rule the charts, he has a tight circle of fantastic friends, and is head-over-heels in love with his wife and son.
Ready to take a step back and focus on spending more time with the important people in his life, Cole receives an unexpected invitation to play a major role in a concert for charity. His euphoria quickly is tempered by an unplanned bump that rocks his world.
99c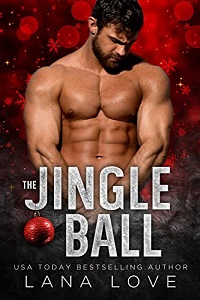 The Jingle Ball (Rock Star Romance #1), Kay Brody
One fallen rock star + One shy, curvy PR girl + One fake date = Love, the best Christmas present of all!

I've been out of the public eye, spending my time in rehab. When my label insists I go to their holiday party, the notoriously wild Jingle Ball, I can't refuse. I also know I need someone by my side to make sure I stay on the wagon.

My date is a curvy beauty from my PR agency's office. She wasn't who they were going to have accompany me, but when I saw her spying on me, I knew she was the one — not just for my date, but the woman I'd marry.

She's completely out of her element, but the more I learn about her, the more I realize she's not just gorgeous, but that there is a connection I've only imagined in my songs.

Now, I have to convince her that love at first sight is real and that I'm serious. Having her in my arms will have me writing love songs for the rest of my life. I just have to get her to say yes…
LOTS OF FREE!!!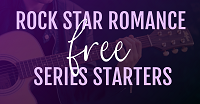 Ends February 1
FREE ROCK STAR ROMANCE SERIES STARTERS
It doesn't get any better than this!
This promo has an entire concert's worth of free rocker romance with stories by J.R. Rogue, Lyssa Cole, Livia Grant, and more.
FREE ROCK STAR ROMANCE SERIES STARTERS
Searching for your next favorite rock star romance? Find it HERE!
If you'd love getting this list delivered straight to your inbox every week, subscribe to my weekly newsletter: https://www.subscribepage.com/JadeCJamison
Happy reading in the land of gorgeous rock stars. I'll be finding more great reads for you for next week!
Do you have a rocker recommendation that you want me to share? Let me know by filling out the CONTACT form on the upper right-hand side of this page so we can shout it out to hundreds of other rockstar romance fans!