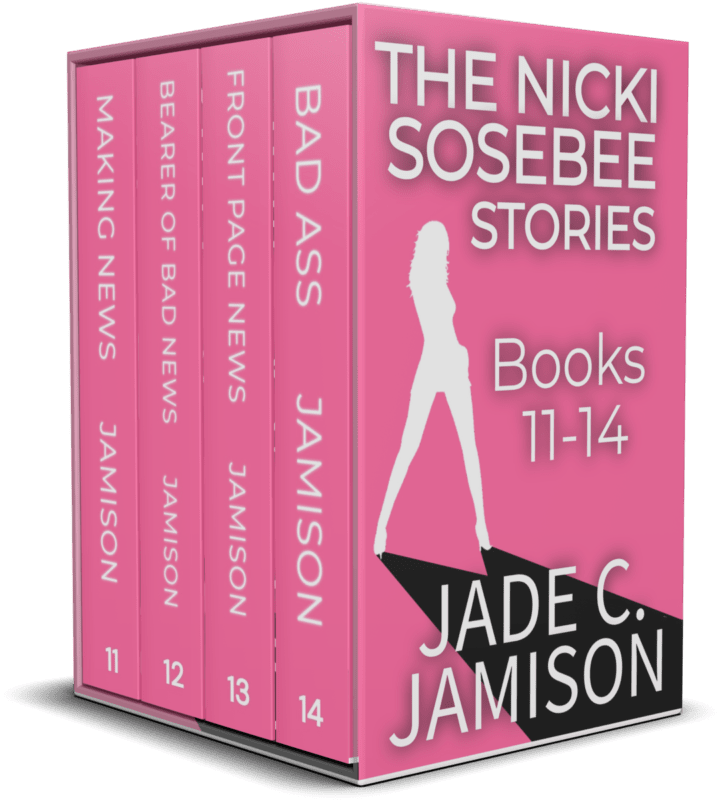 Nicki Sosebee is not your typical romance heroine. She works hard and plays even harder, curses like a sailor, and loves a good time…all to protect her broken heart.
Order Now!
About the Book
Nicki's ready to make a better life for herself—if only she can stay alive long enough to reap the rewards. Follow her adventures in the last four books of the series as she hunts down the bad guys and brings them down.
Making News – Nicki's sleepy hometown of Winchester is the kind of place that deals with two or three murders a year, not two or three a month, but a serial killer is making news by brutally murdering young adults in the most gruesome of ways. Nicki and her investigative blogger friend set out to solve the mystery, only to discover the corruption in their town reaches far and wide. When Nicki gets closer to discovering what's going on, she meets unexpected resistance from all corners, leaving her unsure how to proceed.
Bearer of Bad News – When Nicki loses someone close to her, she realizes that her investigative reporting is endangering not only herself but those she loves. Now she is forced to choose between walking away, just as many of her closest allies have urged her to do—or digging deeper to find the truth.
When Nicki notices she's regularly being followed, she knows her next move could be her last. How can she protect herself when she doesn't know who she can trust anymore?
Front Page News – Nicki is in the most dangerous spot she's ever been in. Now that she no longer has her protector, she's on her own. In her pursuit of justice, trying to bring down every corrupt person she knows in her beloved Winchester, she's made some headway—but, thanks to the likes of her main nemesis Montgomery and his hitman, it's between her and them…and they've got a lot more practice. Will Nicki survive this ultimate endgame or will she become another dead body making front page news, leaving Montgomery to keep running Winchester, business as usual?
Bad Ass (prequel novella) – Nicki's going to a wedding but she needs a plus-one. When her boyfriend isn't able to accompany her, she asks her best friend Sean Ramsey, of course. How did Sean feel about her back then? Exactly when did he start to fall for her?
If you like strong, sassy heroines and the hunky, rugged men they pine for in the backdrop of a small town hiding dark secrets, then you'll love the Nicki Sosebee Stories!
Other Books in "The Nicki Sosebee Series Box Set"