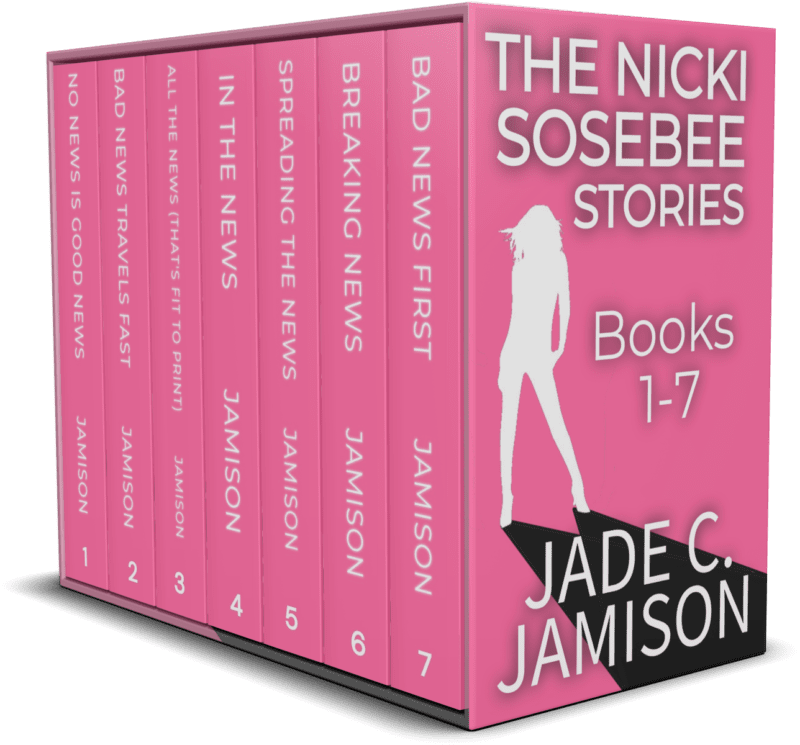 Nicki Sosebee is not your typical romance heroine. She works hard and plays even harder, curses like a sailor, and loves a good time…all to protect her broken heart.
Order Now!
About the Book
Nicki's ready to make a better life for herself—if only she can stay alive long enough to reap the rewards. Follow her adventures in the first seven books of the series.
No News is Good News – Nicki's been learning the ropes as a novice investigative reporter.
The job's been boring…until now, probably because her small Colorado town seems sleepy. One of Winchester's bad boys has been locked up for arson, but Nicki soon finds there's a whole lot more to the story. Her naïveté gets her in hot water at every turn, but her gorgeous best friend Sean Ramsey, self-employed motorcycle mechanic, helps keep her in check. Nicki's been burning a candle for her cocky, hunky friend, but nothing will come of that unrequited love, even though she's always looking for a second chance.
Meaning Sean is also distracting. And Nicki really needs to pay attention so she can write her first headline story…before her name ends up in the obituary section.
Bad News Travels Fast – Nicki's got it bad for her best friend Sean, but she doesn't see her unrequited lust for him getting quenched anytime soon, so she buries herself in work. Shortly after interviewing a county commissioner, Nicki discovers that bad news travels fast when the commissioner's office assistant turns up dead. But one guy's bad news jumpstarts Nicki's nose for news, and she relishes the chance to do some investigative reporting.
All the News (that's fit to print) – Just as Nicki's love life starts heating up, a sexual predator roaming the streets of Winchester strikes fear in the hearts of the women in town.
Nowhere is safe.
Nicki investigates…and when she discovers the criminal in a place she least suspects, there's no one who can save her.
In the News – When a rash of robberies hits the downtown Winchester area, Nicki begins reporting the damage, hoping to help law enforcement bring the culprit to justice. It's not long before she discovers that there's far more to the story than the petty crimes she's reporting.
Spreading the News – Thanks to Sean, Nicki's starting to pay lots more attention to what the politicians around Winchester are doing—and she decides to do something about it. When the City Council draws a line between the haves and have nots, Nicki decides to take a stand, and it won't make her popular around her hometown.
Meanwhile, Nicki finds herself in a love triangle and she thinks she knows what she wants…but does she really?
Breaking News – Just as Nicki starts to figure out that her beloved town of Winchester maybe isn't so safe or idyllic, she discovers even worse secrets that have been buried and ignored. When the teenage daughter of a Winchester lawyer is kidnapped, Nicki gets a glimpse of the darker elements of her town, leaving her wondering how she can use her position to expose what she's found.
Bad News First – Disillusioned, Nicki starts to believe she is nothing but a tiny cog in a big machine, and as she opens her eyes to all that's around her, her life begins to fall apart. For the first time, she sees how deep the corruption goes in Winchester, so she does what she knows best—she reports what she finds, starting with the bad news first.
If you like strong, sassy heroines and the hunky, rugged men they pine for in the backdrop of a small town hiding dark secrets, then you'll love the Nicki Sosebee Stories!
Other Books in "The Nicki Sosebee Series Box Set"