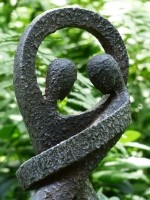 If you would have asked me five years ago if I would consider writing a book that revolved around a May-December romance, I probably would have laughed. At the time, my main characters were in their twenties and thirties and the couples were close in age.
There's nothing new under the sun, and that includes May-December romances. They don't happen very often, and I think that's why some of us find them strange. But something I discovered a long time ago is that, once we become adults, age doesn't matter as much, does it?
And yet it seems to. No one comments about the ages of famous couples who have a slight age gap, but I'll bet you did know that there was a huge age difference between former couples Ashton and Demi, Johnny and Amber, and Angelina and Billy Bob. There are some of those types of couples whose relationships have lasted—Harrison Ford and Calista Flockhart, Catherine Zeta-Jones and Michael Douglas, for example. And, of all these couples and more, I'd guess that you have an opinion. Why do you think the terms cougar and dirty old man exist? But, in terms of couples, the feeling is mutual. These two people have fallen in love, and age hasn't mattered, so it's doubtful that a younger woman considers her love interest to be said dirty old man.
Now that I've been inspired to actually write about a May-December romance, I've given much thought to the problems these couples might encounter. No offense to Hollywood, but I'm sure the couples I mentioned above fared just fine. It's the rest of the world ("normal" folk) that I'm more concerned about.
The May-December Couples' Old Friendships Might Feel Awkward
Think about it. Usually (though not always), our friends are close in age to us, although that's not always the case. It's oftentimes easier to "relate" to people in the same generation because we have similar life experiences and similar shared histories.
So, even though each other's friends might seem to be quite different, I think that might not be entirely true. After all, what attracted the couple to each other in the first place? Perhaps the older person always felt more youthful and, therefore, more comfortable around younger people…so his soulmate's friends might simply feel like an extension of her. Or, in another example, maybe the younger person in the relationship has always felt like an old soul and has never been able to relate to people his own age.
All couples experience a transition phase with their friends, and a May-December romance would be no different.
Their Bodies are in Different Phases of Sexuality
No, I'm not talking about the difference between sexes, but about sexual development. While all people are different, there are certain age ranges where things happen. Our bodies gear up to be able to procreate while in our teens and we go through puberty. Then, of course, are our childbearing years, followed by menopause, and men go through phases similar to those of women. The bottom line is we change over time. Not only do we wrinkle and sag and feel differently in different parts of our bodies, the insides themselves go through many changes. There comes a time when a woman can no longer have children. I can name all kinds of things that change with a woman's body over time, simply because I have lived it. I had my first child at 27 and my last child at 35 and the way my body felt during those pregnancies—a mere eight years apart—changed. So an obvious problem this couple might experience would be, perhaps, that one needs to worry about birth control while the other hasn't had to for a while…or, if one of them wants children and the other doesn't, they'll need to find a way to work through it.
Which brings me to the next problem…
Family Issues with Age-gap Couples
Imagine how the young wife, age 25, who married a man thirty years old than she, feels when she meets his son—the same age as she—for the first time? My current work in progress, December Lust [the book was published in November 2016 with the title To Save Him but has been slightly rewritten and retitled as Love and Darkness], deals with a similar issue. Kimberly's love interest is only two years older than her oldest son would have been…which means that if their relationship progresses, there are some strange family "issues." Imagine how a 27-year-old man would feel playing stepfather to a 23-year-old girl. Or how a 45-year-old woman would feel when meeting her mother-in-law…who happens to be one year younger than herself?
Awkward.
These are most certainly the types of uncomfortable situations a May-December couple would have to work through.
Goals and Wants Might be Miles Apart with May-December Romances
Think about it. What were your goals at 18? 25? 35? 42? What were your goals before you had children and how did they change afterward? Did your wants evolve as you grew into adulthood? I think about young, idealistic me. I know I'd still like her, but I'd want to make her try different things. I'd try to change her mind about a lot of other pursuits. But, bottom line, I know how I was, and I would have told myself nicely to go away. I wanted to live my own life, make my own mistakes, and do what I was compelled to. Fortunately, my partner and I (approximately the same age) saw eye to eye. Sure, we had disagreements like all couples do, but our view of life was similar, so we understood where the other was coming from. We have grown and changed together. People twenty years younger or twenty years older than I am? Yes, I can still love them, be friends with them, want to spend time with them, but our goals are different. My friends fifteen to twenty years older than I am are getting ready to retire and looking forward to drawing Social Security in the very near future, whereas friends my age are instead planning their kids' high school and college graduations, marriages, or expecting their first grandchild. On the other end of the spectrum, friends who are fifteen to twenty years younger than I are pondering if they want to further their education or just work and party for a while; they're trying to decide if they want to move in with their bestie or their boyfriend. They're just starting out on their journey.
So, while I love all my friends, the ones I can most closely relate to are the ones my age. They're the ones who understand where I am in life and what I'm having to deal with. That doesn't mean I love them more but very often it means we understand each other better. I think of that in the context of a romantic relationship…and it can be exhausting just considering it!
The couple in my book, older woman Kimberly Cooper and younger man Brandon Abbott, have lots bigger mountains to climb than what most May-December couples have to go through to achieve balance and happiness—first, he was her dead son's best friend and, if that wasn't hard enough, Brandon's dealing with PTSD and a questionable past. But that's the beauty of fiction—all that beloved conflict! Maybe once they make it through all the danger, intrigue, and heart wrenching emotions, they'll be able to deal with these other couple problems. I can't wait to write my way to that point!
Have you ever personally known a couple who has a big age gap? Are you in a May-December relationship? Are there any other difficulties I haven't considered? I'd love to hear from you in the comments!
One last thing…if you're looking for age gap reads, here are some of mine:
Love and Darkness (mentioned above)
I have a couple of other books that have slight age gaps as well, but those don't count. 😉 Happy reading!