Janeane, BJ's Book Blog, 4 stars on Goodreads: "To Save Him is a beautiful, poignant story about love, loss and finding yourself again."
Louise H., 5 stars on Goodreads: "[T]his is one of the best books I have read this year. Jade C Jamison has outdone herself with this amazing offering."
Kelly, Twisted Book Promotions, 4 stars on Goodreads: "Jade…created a story that was completely unique, sexy and sometimes tearful."
It's finally here.  Release day is almost always for me a combination of anxiety and excitement–and today is no different!  Why am I anxious?  Well…even with beta readers and reviewers (and even myself!), I really have no idea how the majority of readers will receive the book.  This one is very different, even for me (and I realize that's saying a lot), so I have that additional stress.  But I'm also excited because I'm certain most of my readers will love it.  Brandon, like many of my heroes, is a tormented, broken soul–and Kimberly wants to save him…but does she risk herself and everything she's worked and fought for to do that?  Hmm…guess you'll have to read to find out–and then let me know what you think!  Put this poor author out of her misery.  😉
But I guess you can't read it if you can't get there.  Here's all the info you need!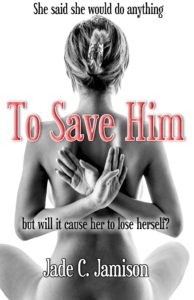 To Save Him
Amazon: http://amzn.to/2dsY031
Amazon UK: http://amzn.to/2duFRNt
Amazon CA: http://amzn.to/2ezZX9F
Amazon AU: http://amzn.to/2ecX8i5
Barnes & Noble: http://bit.ly/2erkT6y
iTunes: http://apple.co/2eMjqnF
Kobo: http://bit.ly/2eqgKBt
Google Play: http://bit.ly/2fwsdf0
All Romance: http://bit.ly/2frYCTl
18+ due to sexual situations, adult language, BDSM situations, and descriptions of torture
A new look at the May-December romance…
She said she would do anything to save him…but will it cause her to lose herself?
What if she was wrong?  What if Brandon Abbott is not who he says he is?
Kimberly Cooper's emotional compass has been off since her bitter divorce and the death of her oldest son, so when young soldier Brandon shows up at her door, she invites him to be part of her family's life. He says he was friends with her deceased son…
But things don't seem to add up.
And then, when she becomes sexually attracted to him, all bets are off.
When her heart trumps her brain, will she know if she was wrong or will she learn the truth after it's too late?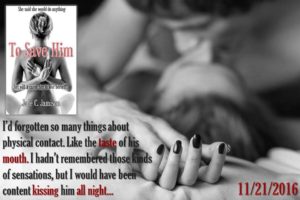 You can also read more here: First Chapter of To Save Him
Okay, now…back to pacing and biting my fingernails.  😉