I've been joining a lot of promotions lately–for lots of reasons, but you can save and also enter giveaways, so I want to share them with you.  There are two today that I want to let you know about!
First…a fun hop where you could win all kinds of prizes!
Don't miss the Wonderful Winter Hop on Facebook!
Enter to win tons of prizes, including a Free Kindle Fire, Amazon gift cards, & more from some amazing authors and bloggers, including yours truly… Not a bad way to spend a winter weekend, right?!
Next…a bunch of freebies for ya!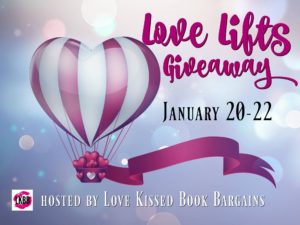 Check out the Love Lifts FREE for All & Giveaway 1/20-1/22!
42 Romance Authors are offering 42 books…
Most of them are FREE for a limited time. It's just our way of thanking our loyal readers.
Even better, we've pooled our funds to offer an awesome giveaway! Enter to win a Kindle and Amazon Gift Cards just for subscribing to our newsletters or following us on social media.

Here's the link to the Love Lifts FREE for All & Giveaway:
Enjoy!  🙂