Yup! Another new release. Actually, a new series (but based on older books). The series is Small Town Secrets and if you're a faithful reader, the town of Winchester won't be foreign to you.
Each book in the series is an older book I've rewritten. If you've read these books before, I hope you're pleasantly surprised at what's been added (and taken away).
One other (IMPORTANT!) fact…book #1 is free now through the end of Saturday, 5/9/20. Book #2 is 99 cents through release day, Tuesday, 5/12/20.
Without further ado, let me hook you up!
Love and Lies (Small Town Secrets #1)
Coming home might have been stupid but it was so worth it.
Casey never wanted to get divorced—and she definitely didn't plan to go home again. But she needed a place to lick her wounds, so she headed back to Winchester, Colorado, her hometown, the one place on earth she swore she'd never return to. Spending time with her hypercritical mother spurs Casey to find a job quickly so she can get back on her feet—and that's where she meets sexy Scott Wardell, a man who makes her heart beat faster even while stirring her anger.
As she gets to know Scott better, she discovers that he plays drums for a local rock band. He seems perfect for her…except maybe he hasn't told her everything about the ex. And his creepy best friend isn't doing him any favors, either. But even if Casey could handle those problems, she's got her own ex and cold feet she needs to grapple with…
Curl up by the fire with a glass of wine or a mug of hot chocolate and settle into Winchester, Colorado—where the nights are cold…but steamy!
NOTE: Portions of this novel were previously published in the book THEN KISS ME.
Amazon US: https://www.amazon.com/dp/B0881FHGQH
Amazon UK: https://www.amazon.co.uk/dp/B0881FHGQH
Amazon CA: https://www.amazon.ca/dp/B0881FHGQH
Amazon AU: https://www.amazon.com.au/dp/B0881FHGQH
Non-Kindle copy: https://forms.gle/DqAgizfwKkUwpHGj7 (I'll honor requests through Sunday, 5/10/20)
Love and Lust (Small Town Secrets #2)
Would your inability to walk away be worth losing everything?
Samantha has never quite had a man as irresistible as tattooed bad boy Ryan across her desk, and she's been practicing law for a few years now. What the hell has gotten into her? She can barely concentrate as his quiet yet sexy charm oozes across the space, igniting her imagination.
He needs her legal assistance—but she needs something else from him: just one night between the sheets to get him out of her head.
If he says yes, she's racing down a dangerous path, because crossing that line could cause her to be disbarred, lose her business, her friends, everything she's worked so hard for.
So why the hell can't she stop obsessing over him? Will she throw it all away for one night of pleasure?
Please note that portions of this novel were previously published in 2011 as the book STATING HIS CASE and in 2016 as CROSSING THE LINE.
US: https://www.amazon.com/dp/B0881G8GPJ
UK: https://www.amazon.co.uk/dp/B0881G8GPJ
CA: https://www.amazon.ca/dp/B0881G8GPJ
AU: https://www.amazon.com.au/dp/B0881G8GPJ
Love and Music (Small Town Secrets #3)
Years later, he still takes her breath away. Does that mean he's the one?
Time has not changed the way Megan feels about her ex Tyler Green, now a famous rock star. It's pathetic, and that's why she absolutely will not—WILL NOT—attend her ten-year high school reunion. But her bestie convinces her that there's no way a guy like Tyler would ever attend their reunion anyway. He's got better things to do with his time.
Megan feels like a complete idiot when he shows, but she feels even more foolish when she confirms she's still head-over-heels in love with him. It's doomed to fail: their worlds are now completely different, urban rocker and country mouse. But how will she ever be able to let him go again?
Portions of this novel were previously published in 2012 as the book Madversary.
Amazon US: https://www.amazon.com/dp/B0881J7YWG
Release date May 19, 2020
Love and Deceit (Small Town Secrets #4)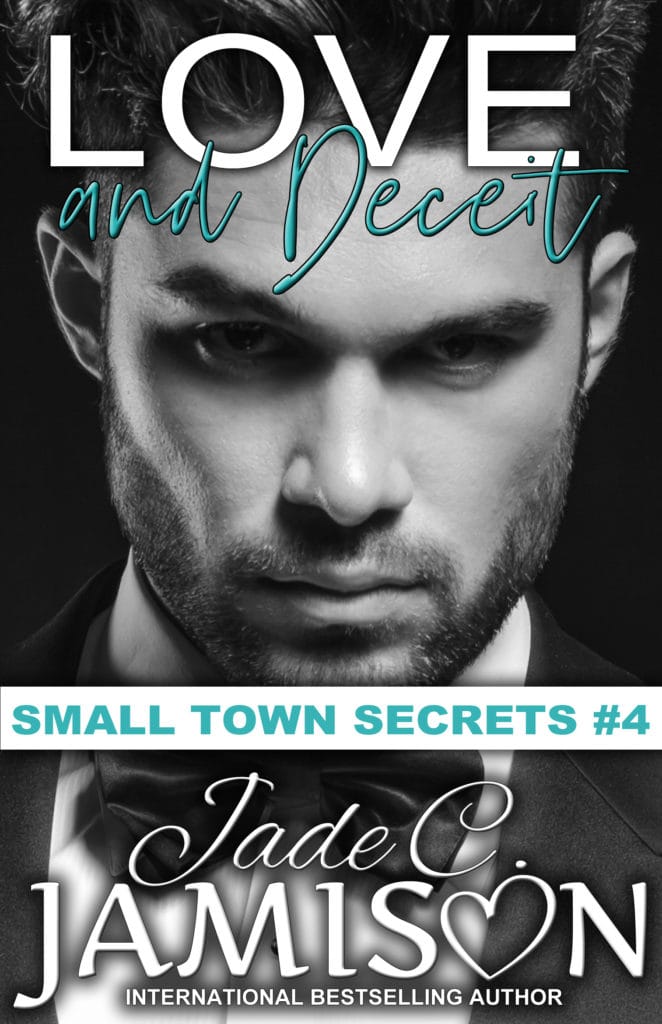 He looks picture perfect…but is he too good to be true?
Ivy is modeling to pay the bills as she finishes up grad school, Shane because he's looking for a new career. What should have been just another photo shoot leaves both wanting more, and a cup of coffee leads to a steamy encounter.
Despite a rocky start, Shane and Ivy remain inexplicably linked. When her future is jeopardized due to compromising photos, will Shane come to her rescue or save himself?
Will Shane play her knight in shining armor…or walk away?
Portions of this novel were previously published in 2017 as the book Picture Perfect.
Amazon US: https://www.amazon.com/dp/B0881GQXQX
Release date: August 4, 2020
These books aren't on Amazon right now. If you don't do Amazon, please let me know in the comments! Hugs!!! ~ Jade