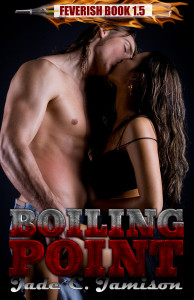 Boiling Point
a novella
(Feverish #1.5)
Jade C. Jamison

Release date:
March 29, 2016
Genres:  Contemporary romance, erotic romance, rock star romance
Audience:  18+ due to sexual situations and adult language
Links
Goodreads:  https://www.goodreads.com/book/show/28828094-boiling-point
Amazon: http://amzn.to/1ToZyaZ
Amazon UK: http://amzn.to/23vaHv5
Amazon CAN: http://amzn.to/1RfneQf
Amazon AUS: http://bit.ly/1LkJSEg
iBooks: http://apple.co/1QV96Gb
Kobo: http://bit.ly/1YMbzrA
   Blurb
Pathetic.
Needy.
Untrusting.
Emily Brinkman hears all these descriptions in her head, all the things she knows others are thinking when she joins her boyfriend, Clay "Jet" Smith, on tour with his band. It doesn't matter that she's going as his PA as well; she knows she's being judged…but she also knows that the people watching are half right.
Hot.
Tight.
Fine.
Clay can hear what all the men around him think of his sweet girlfriend and he loves having Emily join him on tour. To this woman, he's not just a one-dimensional axe-slinging guitar god. She loves him and wants the best for him, and she won't tell him something just because it's what he wants to hear. But Clay didn't stop to realize that all the guys on tour—from the roadies to security and even their frontman—would appreciate that Emily is a nice piece of ass. He will need to learn to trust her if their relationship is going to survive.
Will Clay and Emily survive the bumps on the road or will their time on tour drive them apart?
Excerpt
"I just want to prepare you. You're dating a rock star. It's an experience unlike anything you've ever known before, and talks with your mama couldn't prepare you for the shit that will go down."
Yeah…that was another thing Emily wouldn't tell Debbie about. She'd lost her mother years ago in a horrible car accident. It had been just her and her dad forever—and her dad hadn't had a clue about how to prepare Emily for anything having to do with being a woman…not that he hadn't tried. She'd also had an awesome PE teacher in middle school who'd helped her navigate the seas of adolescence. But God bless her dad—he really had tried…and he'd done the best he could.
As for "dating a rock star," Debbie had no fucking clue about Clay. Rock star or not, inside he was the sweetest, most genuine man Emily had ever known. They'd been through a lot of emotional ups and downs in the short time they'd known each other, and she felt as though they'd grown together, so even though she'd been feeling a little insecure, it wasn't because of any stupid ass thing Debbie had hinted at.
She was going to keep her mouth shut so as not to encourage any more asinine comments from the woman, but she could see that wasn't going to happen. Best to just spit it out. "Clay's not anything like you think, Debbie."
The frontman's girlfriend lifted her perfectly sculpted thin eyebrows as her mouth froze. After several seemingly eternal seconds, she let out a long breath of air. "Look, Emmy, I know you're knee deep in new love. I get that. I know how that works. I was there with Sam once, too. But wake up, girl. Yeah, I know you think you know Clay…but I've known him a lot longer than you have." She brought her cup up to her pink lips and sipped before repeating, "A lot longer."
That was true…but she had to believe that Clay had been honest with her about his past—his entire past. Debbie had been looking at him not as a friend or as a lover but as the girlfriend of one of his coworkers. Of course, anything she felt about Clay would be jaded. So Emily brought her cup to her lips, trying to think of a comeback.
Debbie began talking again, though, allowing Emily to keep her mouth shut. "Sure…it starts out pretty innocently at first. You don't even know what's happening until it's too late to stop it, and it's a slippery slope. You'll lose your guy if you don't keep going…"
Praise
"I loved Emily realizing that Jet's attitude isn't so bad when you need to get stuff done.  I also loved how Clay felt real pride in his woman when he realized she was much respected in her line of work." ~ Angie J, Twinsie Talk Book Blog
"I enjoyed getting to see the various different dynamics between of all the players (crew/band, Emily/crew, Debbie/Emily) and especially Emily/Jet/Clay…the dual personas of Clay the man and Jet the rockstar and how it affects Emily. It was an insightful look at behind the scenes and what fans see vs what really happens." ~ Sue Banner
Series Info
1 Feverish
1.5 Boiling Point
The Feverish series is a spinoff of the Bullet series:
1 Bullet
2 Rock Bottom
3 Feverish
4 Fully Automatic
4.5 Christmas Stalkings
5 Slash and Burn
6 Locked and Loaded
Sales Info
Feverish and the Bullet 1 Box Set will be on sale the day Boiling Point releases (Feverish will be 99 cents and Bullet Box Set 1 will be $4.99).
If you need any other info, please don't hesitate to comment below and Jade will get back with you ASAP.  Thank you for your interest!
Purchase Links for Sale Books
Feverish
Amazon: http://amzn.to/1mp0KeK
Amazon UK: http://amzn.to/1m162dw
Barnes & Noble: http://bit.ly/1BPtWPo
Kobo: http://bit.ly/1vOBuSz
iTunes: http://bit.ly/1xnvX4I
Google Play: http://bit.ly/1PeDIn1
The Bullet Series Box Set:  Books 1-3
Amazon: http://amzn.to/1MJtpEv
Amazon UK: http://amzn.to/21aLoxf
Barnes & Noble: http://bit.ly/1SbJW7G
Kobo: http://bit.ly/1MuF8J5