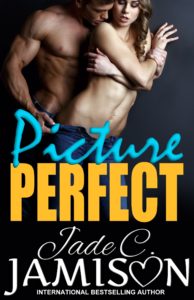 Picture Perfect
a novella
Jade C. Jamison
Release date: November 13, 2017
Genres:  Contemporary romance
Audience:  18+ due to sexual situations and adult language
Blurb
It was supposed to be just another photo shoot, just another hot guy and me for the cover of some romance book.
It wasn't supposed to feel real.
It wasn't supposed to be real.
But Shane was so hot and so good looking, he was picture perfect—and irresistible. So when he invited me to his place for coffee, I didn't worry about all the reasons why we shouldn't.
Little did I know Shane would completely change my whole world, but I just couldn't say no…
Links
Amazon: https://www.amazon.com/dp/B0779CVVQW
Amazon UK: https://www.amazon.co.uk/dp/B0779CVVQW
Amazon CA: https://www.amazon.ca/dp/B0779CVVQW
Amazon AU: https://www.amazon.com.au/dp/B0779CVVQW
Barnes & Noble: http://bit.ly/2BWTQMG
Apple: https://itunes.apple.com/us/book/id1311118739
Kobo: https://www.kobo.com/us/en/ebook/picture-perfect-75
Google Play: http://bit.ly/2zOUgUe
Goodreads: https://www.goodreads.com/book/show/36169948-picture-perfect
Excerpt
"In Greg's studio. Was that an act?"
I wasn't sure what Shane was getting at and I was afraid of acknowledging what I thought he might mean. Saliva pooled in my mouth and I swallowed before tilting my head slightly to the side. "Was what an act?"
His brow furrowed as he got a little closer. "See, I've never done this kind of thing before. Is it—is it natural to feel a little something for the other person involved?"
I exhaled the breath I'd been holding in my lungs before I spoke. I thought back over the past year and all the shoots I'd had, both with Greg as a book cover model and in other situations where I had played one half of a hetero couple. "No." I shook my head as if I'd needed to emphasize the word. I'd never felt this way about a man I'd worked with before. There was something about Shane that tripped every trigger and every nerve in my body was aroused, standing on edge with expectation. "It's not natural." The light in his eyes waned and I realized that he then thought it was one-sided. Impulsively, I grabbed his hand. "But I felt it, too."
His pupils grew bigger then, signaling to me that those emotions were still there, just buried deep like I'd tried to do with mine. It had turned out to be next to impossible, though, because as long as he was next to me, my thoughts would go in places they shouldn't. As I watched him make up his mind through the window of his eyes while anticipating the heat of his kiss, I wondered if I'd be as drawn to him later after I was no longer in his presence.
His lips pressed into mine, soft and warm and slowly at first, but our mutual desperation made it passionate in a matter of seconds…
***
If you need any other info, please don't hesitate to email Jade (or use the contact form) and she will get back with you ASAP.  Thank you for your interest!