There's a book I published a long time ago (okay, four years ago, to be exact–November 6, 2011), but it took me a few years–and two big rewrites–to get it where I wanted it to be.  When I published it, I wanted a title and a cover photo that would do justice to the heartache inside.
Well…the title and cover might have done that–too well.  It scared off most of my faithful readers.  I'd never been happy with the blurb, maybe because I'd put so much heart and soul into the book that I had nothing left to give when it came to the one part that was supposed to sell readers!
The title?  Worst Mother.  It was meant to be contradictory, in a way.  The main character, Randi, has two children and, because she feels helpless while she witnesses her oldest child fall to pieces, imagines that she is the worst mother on the planet–but she is far from that.  Unfortunately, people do just a book by its cover (and title!) and they were passing time and time again.  The message I wanted to send was lost because my readers weren't reading it!
The cover…it was of a sweet little preteen girl, one with a little makeup and dirt on her face looking very, very sad.  Again, there's heartache in the book, but I think people were imagining (and some said as much in their reviews) child abuse–beatings, screaming, wire hangers, bruises.  I don't want to give away the "secret," but Randi is not abusing her daughter.  Still…no one was giving the poor book a chance.
The blurb.  Well, I'll share it below so you can see how much better it is now.
I agonized for months, trying to come up with a much better title, one that I loved, and I spent hours and hours and hours scouring photos, again looking for something that represented a feeling.  Here's what I came up with (and the readers who've seen it so far like this much better!):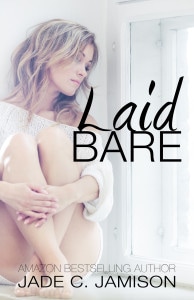 Much better, right?  Right!
Here's all the info on it in case you want to pick it up, now that it's not so scary.  By the way, you might want to grab it during relaunch week, because I've put it on sale for 99 cents to celebrate.
Laid Bare

GENRES: Contemporary Women, Contemporary Romance
RELAUNCH DATE: October 25, 2015
PURCHASE LINKS:
Amazon: http://amzn.to/1qtpo0N
Amazon UK: http://amzn.to/RDAd0M
Barnes & Noble: http://bit.ly/1jvFiTL
iTunes: http://bit.ly/1rOMw4y
Kobo: http://bit.ly/1wqyi0a
ARe: http://bit.ly/1jIyRQJ
GOODREADS:
https://www.goodreads.com/book/show/27273800-laid-bare
BLURB:
Randi Miller became the one thing her parents never wanted her to be: white trash. The man she's sleeping with won't commit; her kids have different dads; and she's balancing school and work until it seems like something's gotta give.
It does.
Except Randi feels ill-equipped to deal with the shambles of her life. It all starts when her daughter is suspended from the sixth grade for starting a fire in the girls' bathroom and from there it goes downhill—fast.
Can Randi find the strength to survive when her world crumbles down around her, or will she be forever destined to live her life on the wrong side of the tracks?
***Not intended for readers under the age of 18 due to adult language and sexual content***
~ ~ ~
Oh, and speaking of SALES and SCARY STUFF, starting tomorrow, Old House and Savage will also be on sale through Day of the Dead to celebrate Halloween (99 cents and $2.99 respectively).
OLD HOUSE
Amazon: http://amzn.to/ZfyJNL
Amazon UK: http://amzn.to/1sUUb8q
Barnes & Noble: http://bit.ly/1vFZ3gw
Kobo: http://bit.ly/1kc2mdm
iTunes: http://apple.co/1GxL6tx
SAVAGE
Amazon US: http://amzn.to/1xunHEw
Amazon UK: http://amzn.to/1xunJwa
Barnes & Noble: http://bit.ly/1bOWDGw
iTunes: http://apple.co/1CKlRzE
Kobo: http://bit.ly/1BKoAnT
ARe: http://bit.ly/1NBbIap
And in case you were still curious, here's the OLD blurb for the book formerly known as Worst Mother:
Can she discover her daughter's secret before it destroys their family?
When Randi Miller discovers that her daughter Sarah's preteen behavior is more than typical hormonal angst, she struggles to get Sarah the help she needs while she watches the rest of her life fall apart around her. Randi has made some mistakes in her life, mistakes that she feels continue to haunt her. In trying to pick up the pieces, though, she feels that she has neglected her children; she works full-time, attends college, and maintains a casual friends-with-benefits relationship with a man she is hesitant to admit she loves, and in doing so, feels that she has missed the obvious signs that something bad has happened to her daughter.
Much, much better, no?  🙂