The moment some of you have been waiting for…the cover reveal for the final book in the Bullet series, Locked and Loaded.
Now all those people who refused to read Bullet till the series was complete (in spite of the fact that Bullet was originally written as a standalone) can get started. 🙂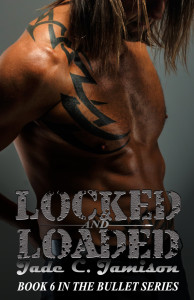 Anyway, without further ado, here are the particulars:
GENRES: Contemporary Romance, Rock Star Romance, Erotic Romance
RELEASE DATE: February 1, 2016
PURCHASE/PRE-ORDER LINKS:
Amazon: http://amzn.to/1lWuUIF
Amazon UK: http://amzn.to/1QleUNe
NOTE: The book *will* be available for purchase on other sites on release day!
GOODREADS: https://www.goodreads.com/book/show/27074162-locked-and-loaded
BLURB:
Is it too much to believe that someone keeps returning to your life because it's meant to be?
Zane Carson is an idealistic young man with one big skeleton in his closet when he first meets Jennifer Manders in college. They date only to break up soon after. The sexual attraction is like an electromagnet but they fight like alley cats. The relationship just isn't worth it.
Zane's band Fully Automatic breaks big about the same time Jennifer finishes college. One summer afternoon, they meet for coffee and sparks fly once more. It's off again, on again, but they just can't make it work and break it off for good, deciding it's not worth the effort.
But Zane is drawn to her and, during a break in the music action, he tracks her down again, willing to change himself for her and needing to give her one last try. The attraction is as strong as ever, but now Jennifer is hiding something from Zane—something big, something that threatens to extinguish the spark for good. When Zane discovers her secret, will he be able to forgive her or will that be the end?
Also, catch up with the entire Bullet gang. See what's happened since you last saw them! 🙂
Oh, and YES…this is the FINAL book in the Bullet series.
***Not intended for readers under the age of 18 due to adult language and sexual content***
LINKS:
Facebook Author Page: https://www.facebook.com/JadeCJamison
Twitter: https://twitter.com/JadeCJamison (@JadeCJamison)
Instagram: http://instagram.com/jadecjamison
Pinterest: http://www.pinterest.com/jadecjamison/
Newsletter: http://eepurl.com/TOMCH
Links to other series books:
Bullet, #1
Amazon: http://amzn.com/B00BH9817C
Amazon UK: http://amzn.to/1QmzFID
Barnes & Noble: http://tinyurl.com/kkgsv2n
Kobo: http://bit.ly/1qg0lLG
iTunes: http://bit.ly/1lv3fO1
Rock Bottom, #2
Amazon: http://amzn.to/15VfzR0
Amazon UK: http://amzn.to/1q4Ah8a
Barnes & Noble: http://bit.ly/1yqbGzc
Kobo: http://bit.ly/WN4cFA
iTunes: http://bit.ly/1sr9hzT
Feverish, #3
Amazon: http://amzn.to/1mp0KeK
Amazon UK: http://amzn.to/1m162dw
Barnes & Noble: http://bit.ly/1BPtWPo
Kobo: http://bit.ly/1vOBuSz
iTunes: http://bit.ly/1xnvX4I
Fully Automatic, #4
Amazon: http://amzn.to/VCoNMh
Amazon UK: http://amzn.to/1vc3j5D
Barnes & Noble: http://bit.ly/1rRWhQY
Kobo: http://bit.ly/1vc3YUG
iTunes: http://bit.ly/1pXIWHy
Christmas Stalkings, #4.5
Amazon: http://amzn.to/1AR6nGv
Amazon UK: http://amzn.to/16CTqHu
Amazon CAN: http://amzn.to/1sSzxq2
Amazon AUS: http://bit.ly/1sJF6kJ
Barnes & Noble: http://bit.ly/16CLQMM
Kobo: http://bit.ly/13mywKp
iTunes: http://bit.ly/13m07vq
Slash and Burn, #5
Amazon: http://amzn.to/1ApP0hR
Amazon UK: http://amzn.to/1wyYfv7
B&N: http://bit.ly/1BYjmHj
iTunes: http://bit.ly/1BMT6iG
Kobo: http://bit.ly/1xKGKZf
BULLET BOX SET (Books 1-3)
Amazon: http://amzn.to/1MJtpEv
Amazon UK: http://amzn.to/21aLoxf
Barnes & Noble: http://bit.ly/1SbJW7G
Kobo: http://bit.ly/1MuF8J5