Here's another book I've been promising readers for a long time–the first book (a novella, actually) in the Feverish series, the spinoff series from the Bullet series.  I'd had this idea in my head for a long time and I'm just now finally getting to it.  Believe me–like all the other books I want to write, it's not like I didn't want to or that I'm putting it off.  There's just way too much that needs to be written and I often have no say in what comes first.
Finally, though, now that the Bullet series is drawing to an end, the Feverish series is kind of a natural.  I have two other rock star series I need to finish (Tangled Web and Wishes) and I have ideas for two standalone rock star books…but the Feverish series was long overdue.  Stay tuned, because I'll be sharing a few teasers with you in the near future.  But, without further ado, here is the–dare I say?–super hot cover for Boiling Point!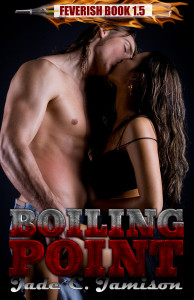 BOOK NAME:
Boiling Point
SERIES NAME: Feverish, Book 1.5 (yes, the Feverish series is a spinoff from the Bullet series!)
GENRES: Contemporary Romance, Erotic Romance, Rock Star Romance
LENGTH: 16,000 words (novella)
RELEASE DATE: March 29, 2016
PURCHASE/PRE-ORDER LINKS:
Amazon: http://amzn.to/1ToZyaZ
Amazon UK: http://amzn.to/23vaHv5
GOODREADS: https://www.goodreads.com/book/show/27257764-boiling-point
BLURB:
Pathetic.
Needy.
Untrusting.
Emily Brinkman hears all these descriptions in her head, all the things she knows others are thinking when she joins her boyfriend, Clay "Jet" Smith, on tour with his band. It doesn't matter that she's going as his PA as well; she knows she's being judged…but she also knows that the people watching are half right.
Hot.
Tight.
Fine.
Clay can hear what all the men around him think of his sweet girlfriend and he loves having Emily join him on tour. To this woman, he's not just a one-dimensional axe-slinging guitar god. She loves him and wants the best for him, and she won't tell him something just because it's what he wants to hear. But Clay didn't stop to realize that all the guys on tour–from the roadies to security and even their frontman–would appreciate that Emily is a nice piece of ass. He will need to learn to trust her if their relationship is going to survive.
Will Clay and Emily survive the bumps on the road or will their time on tour drive them apart?
***Not intended for readers under the age of 18 due to adult language and sexual content***
Newsletter: http://eepurl.com/TOMCH
Facebook Author Page: https://www.facebook.com/JadeCJamison
Twitter: https://twitter.com/JadeCJamison (@JadeCJamison)
Instagram: http://instagram.com/jadecjamison
Website:  www.jadecjamison.com
Pinterest: http://www.pinterest.com/jadecjamison/
Links to other series books:
Feverish
Amazon: http://amzn.to/1mp0KeK
Amazon UK: http://amzn.to/1m162dw
Barnes & Noble: http://bit.ly/1BPtWPo
Kobo: http://bit.ly/1vOBuSz
iTunes: http://bit.ly/1xnvX4I
Google Play: http://bit.ly/1PeDIn1