I'm proud to share this announcement.  My friend Kendall Grey has been working on this project for a bit, sharing it with readers, all completely free, before taking it down off her website and releasing it as a book (slightly improved and all wrapped in a nice, neat little bow).  The book releases today, and–even though I haven't had the pleasure of reading it yet–I can't recommend it enough.  Kendall's writing is amazing (I've read enough to know she's not just a one-trick pony), and I can't wait to dig into Ghosts.  It sounds so good! I've read a couple snippets, but I didn't want to ruin it for myself. I want to read the whole thing all at once. Are you as excited as I am? Here's the info you need! 🙂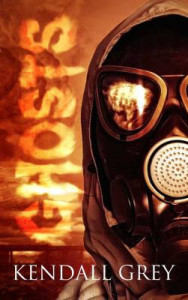 The blurb:
Under the blazing cover of a post-nuclear, technology-crippled world, Sarah Coolidge is an expert at being neither seen nor heard.
She was an afterthought to her abusive parents.
She's invisible to the criminals she works with.
And she'll soon be the death-dealing ghost her enemies never see coming—if she can just shake loose the one person who does see her.
The one who could ruin her.
The one who gives her a reason to live.
The Details:
GHOSTS
by Kendall Grey
Series:
n/a; web serial omnibus
Genre:
Dystopian
SciFi
Publisher:
Publication Date:
A whale warrior, indie freedom fighter, and vodka martini aficionado, Kendall Grey is calm like an F-bomb*. She writes urban fantasy, rock star erotica, erotic suspense/thrillers, and apocalyptic science fiction. Swashbuckling cowboy priests in latex chaps are next on her To Write list**.

Kendall lives off a dirt road near Atlanta, Georgia with three mischievous Demonlings, a dashing geek in cyber armor, and a long-haired miniature Dachshund that thinks she's a cat.
* Detonation manual not included.
** Just kidding about the cowboy priests. Someone probably already did that.

AUTHOR LINKS
In case you hadn't already seen it, I've reviewed one of Kendall's books before here: Why I Struggle Reading Indie Books and One That I Recommend
Huge congratulations, Kendall!  May your release day be everything you want it to be, and may more readers discover the magic of your words!