I hope I got your attention.  I have some news for you and some of it is time sensitive.  If you don't follow me on social media or get my newsletter, you might not know!
Sometime this month, I will be releasing the entire Bullet series in a box set. Present-day Val will be narrating before and after each book, a la diary entries, giving readers her thoughts and observations. Writing the new material has been fun for me, and I think it just adds to the whole experience. That said, I do NOT want my regular readers buying the box set just for the extra materials. If you've been buying each Bullet book, you've already spent a lot of money, and I don't want you dropping another $9.99 for a collection of what you mostly already have. That feels like robbery to me, and I myself wouldn't appreciate it as a reader.  I'm treating you the way I want to be treated.
So, if you've read all the books and just want the extras, all you need to do is fill out a Google form–only two questions (three if you feel like it)–and I'll send you a link to pick up your copy of the extras the day the box set releases. SIGN UP HERE TO GET YOUR FREE COPY –> http://goo.gl/forms/pgxmPRKvGK.  No strings attached!  If you have friends who don't visit my website often but who you know have read the Bullet series, please feel free to share this link!
And, last but not least, in spite of what I'd planned before, I can tell you now that the Bullet universe still has more life left in it. You'll see at the end of Val's observations that she has one more story to tell.  And I have no idea when she'll tell it!  This last story will be more like a companion novel, because it will not be rock star romance.  But it will be Val a few years later.
I'm doing an Amazon giveaway that ends tomorrow!  Don't miss it.  You could win a Kindle copy of On the Run (Vagabonds #1).  Enter here:  https://giveaway.amazon.com/p/671aaa9eb832fd6c NO PURCHASE NECESSARY. Ends the earlier of May 6, 2016 11:59 PM PDT or when all prizes are claimed. See Official Rules http://amzn.to/GArules
The Codie Snow story I wrote as a rough draft publicly last month?  If you were following, then you also know I plan to finish writing it, polish it, and then publish it on Wattpad (where you can still read it for nothing).  I'm not sure when that'll happen but I hope it's soon.  You can follow me here:  https://www.wattpad.com/user/JadeCJamison.  And I might do a more official "reveal" later, but here's the cover in case you haven't seen it!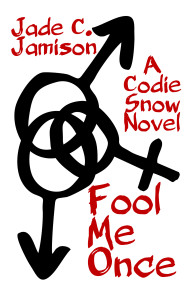 Thank you as always for your support!