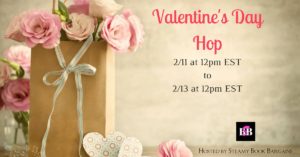 Welcome to the Valentine's Day Facebook Hop, hosted by Steamy Book Bargains!  If you like Facebook, you're going to want to check this out!
With tons of prizes from over 90 authors and bloggers, including Amazon gift cards, it's a great way to spend Valentine's Weekend!
In case of a broken link, visit the website for a complete list of participants:
http://steamybookbargains.com/index.php/welcome-to-the-valentines-day-hop/
For my part of the hop, I'll be giving away three Jade C. Jamison single ebook titles, reader's choice (THREE WINNERS). For instructions on how to win, you'll want to check out my Facebook page:  https://www.facebook.com/JadeCJamison/
Winners will be chosen at random. Giveaway is open from 12pm EST on 2/11 until 12pm EST on 2/13.
Be sure to visit Steamy Book Bargains too and enter the Grand Prize Giveaway! Win a Kindle or Amazon Gift Cards!
Good luck and have a great Valentine's Day weekend!  See you at the hop!  <3