This book was, honestly, inspired by a silly memory of my youth.  I was never into D&D or those kinds of games, but one time someone (my sister, maybe?) gave me a Choose Your Own Adventure book to read. I liked the idea of, every page or so, having to choose a path to take–and never knowing how it would end.  I must have made the right choices, because my character made it to the end alive.
Hmm, I thought.  That was too easy.  So I started over and felt thrilled the first time my character died.  🙂
Those books inspired me to do something similar now–except I wrote an adult romance and there is no dying inside the pages, only breakups.
Dream Guy is a Create Your Own Romance novel, because–in essence–that's what it is.  And the first choice a reader has to make is what the guy of her dreams looks like.  The book is one of the longest I've ever written but each story inside is a novella–or shorter if there's a breakup early in the relationship.  I had fun writing it and I hope my readers think it's a fun idea.  Interested?  Here's a little more info for you.
THE BLURB:
The one romance story you have control over…yes, YOU choose what happens in the relationship and how it progresses—but beware!  If you make the wrong choice, you might be going home alone!  If you like billionaires, vampires, bikers, or rock stars, then this book is for you.
Whether you like steamy or sweet romances…this is for you.  Because YOU choose where the story goes!
Have you ever read a romance novel and thought, "OMG!  Why is she doing that?  The heroine is so dumb!"  If so, then this book is definitely for you.
If you make the right choices, you'll have a Happily Ever After.  If not, you might get a Happy for Now…or a breakup, so choose wisely!
Multiple endings based on choices you make as a reader!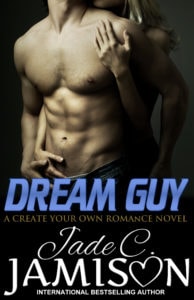 And what do you think about the cover?
If you want me to shut up already and point you in the right direction, here you go:

Amazon
Amazon UK
Amazon CA
Amazon AU
Barnes & Noble
iTunes
Kobo
Google
Enjoy!