Inferno is live and I'm so excited! Thank you to all my early reviewers!!!
"He is so not the sex and drugs and rock and roll type these days, and you know it is going to be sweet when he finds the one that brings him to his knees. And Charlie is just that." – Janeane, BJ's Book Blog
"Dane is a hot drummer with a secret. Charlie is a physical therapist with a past… Join the journey as this couple overcomes their trials and work together to get their HEA. 5 stars!" – Mary, Goodreads
"I think I'm in love with Dane Furman. Okay, I know he's a fictional character, but omg, he is just the sweetest thing." – Elizabeth, The Marginatrix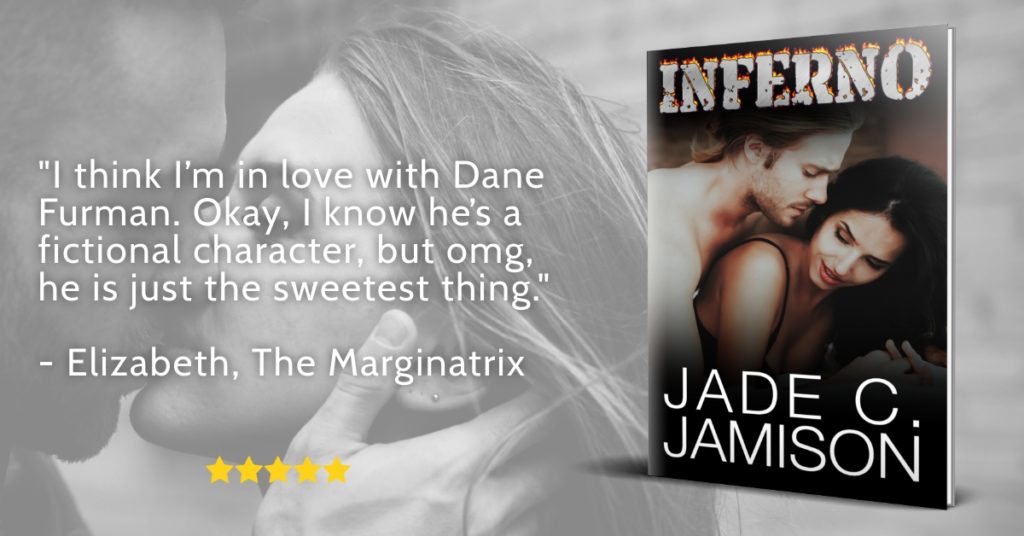 "Both Dane and Charlie have issues, particularly around self-worth and self-esteem. Whilst Dane's loving family has kept him fairly sociable…Charlie really doesn't relate well to people, and struggles to let others in. Naturally this leads to a few ups and downs in relationship terms, particularly as they both struggle to be open and vulnerable with one another." – Louise, Life in the Book Lane Reviews
"I enjoyed Dane and Charlie's story." – Kim, Goodreads
"The interaction and instant chemistry between Dane and Charlie kept me totally engaged until the very last page was turned!" – Pat, Goodreads
"I'm so Happy that FEVERISH is Back!!! I am thrilled that we have another great rock romance from Ms. Jamison and it was so worth the wait." – Doris, Goodreads
"Charlie is petrified of love but Dane's light just crumbles her walls. Dane is so in love with Charlie and yet he reads things she does the wrong way which makes him feel less than. Gah, these two!! Seriously they have all the chemistry and all the love but also all the fear when you go all in with someone." – Angie J, Twinsie Talk Book Reviews
"A sweetly heartbreaking romance." – Rose, Goodreads
"So happy to get back into the music/touring world this author has created, since it's been a hot minute since we've seen these characters. Loved it!" – Sue, Goodreads
"These two had chemistry but man it took a while for them to get it together." – Melinda, Twinsie Talk Book Reviews
If you haven't picked up your copy, you can do that now. Also, did you enter the giveaway?
Amazon
Amazon UK
Amazon CA
Amazon AU
Barnes & Noble
Apple
Kobo
Google Play
ENTER THE GIVEAWAY: