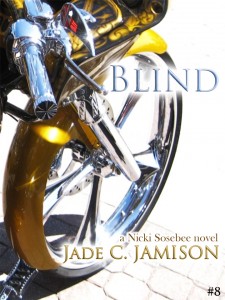 In a nutshell: Nicki is angry. Now that she's seen what the people in power will do to keep their control, she knows she has to play it safe. She's threatened to topple their thrones and they're feeling nervous. But she's also feeling guilty about the murder of a prostitute whom she thinks she was responsible for, so she makes it her mission to help all the women of the night working in Winchester. And she does it the only way she knows how—by reporting what she's learned. And with Sean behind her, she knows she can do anything she's set her mind to.
Cool facts: Real-life Colorado band Fighting the Phoenix make a cameo appearance in this book.
Characters:
Nicki Sosebee: A modern girl who works hard and plays even harder.
Sean Ramsey: Nicki's drool-inducing best friend who keeps Nicki in the friend zone.
Jesse Roberts: Nicki's on-again off-again boyfriend whose emotions are just too intense for Nicki.
Jillian Carpenter: One of Nicki's BFFs, Jillian's life reminds Nicki exactly why she wants to stay single and childless.
Brandy King: One of Nicki's BFFs, Brandy pulls no punches when she tells Nicki the girl's got to get over Sean and move on. And Brandy might be a newlywed, but she still likes to hear all about Nicki's sexual pursuits.
Neal Black: Nicki's editor at the Winchester Tribune.
Detective Nathan Wright: A policeman who sometimes helps Nicki…and sometimes doesn't.
Teaser:
Jesse asked, "So what have you been up to, Nicki?"
"Getting into more and more trouble, in case you hadn't noticed."
"Yeah, I've seen that."
"What about you? Where you workin' lately?"
"I'm just working at the On The Go as a cashier, which pretty much sucks, but I'm going to WCC this semester."
"Are you serious?"
"Yeah."
"What the hell are you studying, Jesse Roberts?"
He grinned. "Fire science."
Nicki stopped cutting the tomato. "What the hell is fire science?"
"I'm studying to be a fire fighter."
"A fire fighter?"
"Yeah. I decided I wanted to do something important, something real."
"That's cool, Jesse."
He cleared his throat and looked down at the knife in her hand. "You were kinda the inspiration behind that."
"What do you mean?"
"Well, you know, how you keep trying to save the world with your newspaper articles."
She smiled. "That's a sweet thing to say." But, of course, his sweetness was one of the things she'd grown to love about Jesse when they'd been dating.
"Yeah, well, we'll see if I can pass my f*ckin' algebra class first."
She started chopping the tomato again, ready to move on to the onions and olives. They were quiet for a little bit and Jesse took another drink of his beer. Nicki said, "So, are you seeing anybody right now?" God, she hoped so. Because she cared about Jesse, she wanted him to be as happy as she finally was. He deserved it.
He shrugged. "I've dated a couple of girls but nothing major."
"Why not? Just haven't found the right girl?"
A sardonic sneer crossed his mouth. "Kinda hard when your ex's name is branded on your hand." He held up his right hand, even though Nicki knew exactly what he was talking about–the scripted tattoo of her name that he'd had permanently inked just below where his thumb and finger met.
"You know, Jesse, I know you're really into your tattoos, how they're mementos of everything you've ever been through, but maybe you should seriously consider having that one removed."
He was quiet for a few seconds, still staring at it, but then he said, "F*ck no."
She raised her eyebrows and scooped the chopped tomatoes into a bowl. "Just a suggestion."
He stared at her hands as she placed the cutting board back on the counter. "Can't believe you're all domestic. How the hell did that happen?"
She giggled. "Don't expect to see me like this that often. I just know you guys take your Super Bowl pretty seriously, and I was lucky enough to have the day off, so why not?"
She grabbed the onion. Jesse took another swig of beer and asked, "What about you?"
Oh, no. She hadn't been prepared for this. "Oh…you know…." She kept her eyes on her hands, one holding the onion on the cutting board, the other pressing the knife blade into the vegetable to slice it. And where the hell were Sean and Travis? She hoped maybe he'd take her blow off answer and move on. She had to think of another subject…and fast.
She could barely hear him when he said, "F*ck." He set the bottle down on the counter. "Seriously?"
She tried to act innocent but she suspected he'd figured it out. She looked up from the onion. She said, "What?" but she could tell from his eyes that he knew.
"You and Sean?"
Oh, God…he looked so sad. And she knew she couldn't lie to him. She started to nod when she heard Sean and Travis coming through the front door laughing. She nodded. "Yeah."
Availability:
Kindle
Nook