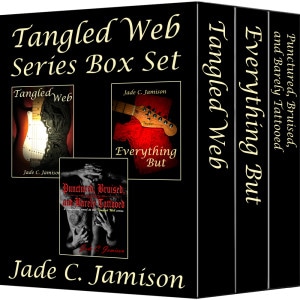 In case you hadn't heard the news, I've put the first three Tangled Web books in a box set–complete with bonus stories.  99 cents until release day, so if you want to pick it up, you'll want to do it quickly!
Tangled Web Series Box Set
includes Tangled Web, Everything But, and Punctured, Bruised, and Barely Tattooed
and three bonus short stories!
Jade C. Jamison
Release Date: April 19, 2016
Genres: Contemporary Romance, Erotic Romance, Rock Star Romance, New Adult
Audience: 18+ due to sexual situations, drug use, adult language
Length: 188,000 words
Links
Amazon: http://amzn.to/1MLYbSE
Amazon UK: http://amzn.to/1qgNRbK
B&N: http://bit.ly/1MPNY7W
Kobo: http://bit.ly/1ZZ8q8x
iTunes: http://apple.co/1NiAoF4
Google Play: http://bit.ly/23kueNK
Blurb
Jade C. Jamison's "other" rock star romance series!
Includes Tangled Web, Everything But, and the companion novel Punctured, Bruised, and Barely Tattooed…as well as three never-before-seen bonus stories! 99 cents until release day!
TANGLED WEB (#1) Katie Logan has had a secret crush on her best friend Johnny Church since high school, but he's never looked at her the same way. So when Johnny—now a famous rock star—comes home to visit, Katie can't bring herself to tell him she's engaged to be married. She should have, though, because she soon discovers that maybe the attraction is mutual…
EVERYTHING BUT (#2) High school English teacher Erin Lancaster is stuck with the unwelcome job of filling in for the injured cheerleading coach, but she wants to back out when she discovers she has to be auctioned as a date during the annual spring fundraiser. She's horrified to find her rock star crush Riley Schultz, former frontman of Spawn, will be playing emcee for the event, but she's even more shocked that he also happens to be the highest bidder for her affections, and sparks fly when she discovers that maybe their attraction is mutual.
Riley's been in the music business long enough to know that true love is not in the cards for him, but the cute blonde he's dropped a wad of cash on would be a welcome distraction during his vacation. He has no idea there's more to her than meets the eye.
Will one week together be enough for them to quell the flames, to enjoy everything but?
PUNCTURED, BRUISED, AND BARELY TATTOOED (companion novel) Kory McCallister has had her eyes on tattoo artist Stone Bowman for quite some time—so long, in fact, that no other guy will do. Stone pushes every turn on button Kory has—he's tattooed from head to toe; he's hot; he's funny and charming; and he's also mysterious. So when Kory's friends dare her to ask Stone out on a date, she can't believe she actually finds the guts to do it.
More surprising? He takes her up on the offer.
She discovers that, while his past might not be quite as dark or mysterious as she'd imagined, it's bigger than she'd expected, and it's something she will need to contend with if she decides she wants to keep him around to color her life for good.
Excerpts
From Tangled Web:
Katie went back in the bedroom and opened a drawer, pulling out a pair of fresh panties. As she slid them up her legs, her thoughts drifted back to last night. God, Johnny had played her just like one of his guitars. He was a maestro. She couldn't remember a time that she had orgasmed so easily, let alone twice in such a short time. And just thinking about it made her feel giddy and guilty at the same time. There was no way to undo any of it. She didn't know that she wanted to.
"Christ," Johnny muttered from the bed, half his mouth muffled by the pillow. "I had no idea you had such a smokin' hot body."
She hadn't even known he was awake, and she felt startled. She inhaled, taking her time sucking the air into her lungs. What the hell could she—should she—say to that? If she hadn't been so wracked with guilt, she might have taken that as a compliment. Instead, she just wanted to bury her head in the drawer. And she felt so…naked. It didn't matter that he'd seen and felt all of her last night. She spied her bra on the floor beside the dresser and snatched it up.
She wasn't sure how to handle this situation yet. She would have to say something in response to Johnny. She just didn't know how or what. And at some point she'd have to tell him everything, whether she wanted to or not. She knew her morning run would clear her head. She'd be able to spend the time running figuring out what to say, how to say it…
---
From Everything But:
Erin twisted up her mouth in mock irritation but she hoped he could see she was smiling underneath it. "So how's the game work?"
"What token do you want to play?"
That was a no brainer. She'd play the piece she'd always played as a kid. "The thimble."
"Aw…how cute."
She rolled her eyes. "And what about you, Mr. Rock Star? What piece do you want to play?"
"It's a toss up, but I guess I'll play man's best friend." Riley set both the thimble and the dog tokens at Start. "Now…here are the rules. You ready?" She smiled and nodded and took a sip of her tea. "Okay…we play it like real Monopoly, only with a few twists. So…if you land on one of the utilities or a Railroad or Chance or Community Chest, you still have to do that stuff, but…you also have to say something about yourself that I didn't know."
"And you do that too, right?"
"Right. It can be anything. You decide what you want to share. The only thing is it can't be something I already know."
"Easy enough. So who goes first?"
"Wait…that's not all." She looked at him and saw the twinkle in his eye. "Like I said, we're playing the game for real, so you'll buy properties as you go around the board, but if one of us lands on something that belongs to the other, we have to remove an article of clothing."
"What? You mean, like strip Monopoly?"
His smile didn't fade. "Yeah." She pondered it and knew exactly where it would go if they played the game.
---
From Punctured, Bruised, and Barely Tattooed:
"Can I come in for a minute?"
Kory frowned at herself in the mirror. She still had residual makeup on—she wore her eyeliner so heavy that it would take lots of scrubbing to get it all off her eyes—but her face looked strange and naked. Still, she had nothing to hide.
Stone had amazed her. When she'd gotten up, he'd already had a workout (but she didn't know if he had workout equipment or had just jogged around his property), shower, and said he'd worked on some drawings. She wondered if he did that every morning or if she'd simply made it impossible for him to sleep.
She supposed she should maybe feel weird around him now, but she didn't. She only wondered what his huge fucking secret was…and then felt a little stupid, because she wasn't ready to give up her own secrets anytime soon. "Yeah, sure."
He took his time as if to give her a moment to collect herself, and the door pushed open slowly. She continued pulling the comb through her hair, though, and she didn't have to force a smile when he came in.
What was that look on his face? She couldn't read it. Surprise, maybe? He grinned. "You sure everything's okay? You've been awfully quiet since breakfast."
She couldn't help the smirk. "Oh, I'm sorry. I didn't realize you wanted me shouting to you from the shower."
He laughed. "No, that's not what I mean."
She finished running the comb through her hair and pulled the few strands in its teeth out so she could throw them in the trashcan next to the toilet. "What do you mean?"
Stone Bowman at a loss for words. Yeah, he was. He shrugged and got closer to her. Shit. She knew it. She must look like a fucking teenager without the makeup. Yeah, that had to be why he was staring at her.
Or…not. He cupped her neck and rubbed his thumb on her cheek. "Did you know you are gorgeous? Why do you cake your makeup on like you do?"
"Cake it?"
"Yeah. You're hiding the best parts of yourself."
"Ha. Bullshit."
"Not bullshit." He leaned over and brushed her lips with his. She felt a buzz pulse through her body.
She took a deep breath.   "You are distracting the shit out of me."
That smirk. God, that would be infuriating if it wasn't so goddamned sexy. "I am?"
Kory swallowed, unable to mask her emotions from him. She simply nodded her head. His eyes searched hers, almost unbelieving, and then he grinned and said, "Your first class is at nine?"
A small breath escaped her lips as she considered him. "Yeah."
"That's a little less than two hours from now. I can still get you there on time…with a latte in hand." She laughed then. He was obsessed with getting her that damned coffee. But then he touched her neck with his lips and the laughter ceased as her nipples pebbled under the damp towel in anticipation. He looked at her then, placing a warm finger in the dip just under her neck and tracing it straight down till it hit the edge of the white towel, and he followed his finger with his eyes. "I still want to lick you till you come." He raised his gaze slowly, drinking in every detail of her skin, up her chin, until he burned holes in her eyes with the intensity. "Do you feel like you could let me try?"
Sales Info
Seal All Exits will be on sale for 99 cents the day the box set releases.
SEAL ALL EXITS (Tangled Web #3)
Amazon: http://amzn.to/1zZ8V9k
Amazon UK: http://amzn.to/1zpYTNo
Kobo: http://bit.ly/1vc2cXv
iTunes: http://bit.ly/1qRT6It
Google Play: http://bit.ly/1QSRtcM