Lashell Collins writes rock star romance books just I do, but some she writes with a paranormal twist.  She and I met a while ago through a couple of rock star romance author groups on Facebook!  I recently interviewed Lashell in March, and this is our conversation!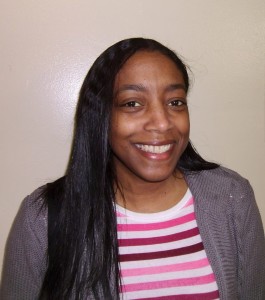 Lashell, thank you for answering questions for me today. I first met you because you were part of the Rockstars Among Us group I was invited to, and we're now part of a solid Rock Star VIP group. Please tell me how long you've been writing (both published and unpublished).
Well, that's actually a tricky question. I've been writing for as long as I can remember. It was always one of my favorite things to do. But I got started writing for a certain rock star fan club website back in 1998 or '99, and I did that off and on up until 2010 when I started writing romance stories. I self-published my first book in February of 2013. I'm now about to release my eighteenth title on March 29, 2016. [Readers, you can check out Lashell's new book Rogue Moon on Amazon.]
Woohoo!  Congrats!  You and I both write rock star romance. Can you tell me how many rock star books you've written? What has inspired you to write in this particular romance sub-genre?
So far, I've released six rock star romances. Five of those are the Jagged Ivory series. JI was my first fictional rock band, and those boys have been very good to me. The sixth rock star romance is book one in a paranormal rock star series called the Rock Shifter Fairytales, and book 2 of that series is in edits right now. Also, I'm working on book 1 of a new rock star series that's tentatively titled the Outlaw Series, but that title is subject to change. AND I've got a rock star holiday series of novellas planned for the 2016 holiday season. So … a lot of rock stars coming up from me this year!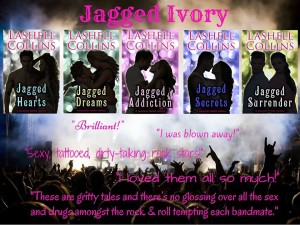 As for what inspired me to step into the rock star romance genre … basically, I'm just a HUGE music fan and I love rock stars. They are insanely sexy and wickedly talented. Full of passion and angst and a fire to create and perform and entertain that burns deep in their souls. I am a music nut, and I love all types of music, from classical to '80s pop, but rock and roll in particular speaks to me. And writing about the men (and women) who create it is like an escape for me. My daydreams and fantasies come to life in the rockstar romances I write.
I think we're a lot alike in that regard. Can you tell me who are your favorite bands? What's the last concert you attended?
YES! Like I said, I adore rock music. My most favorite band in the world right now is Slash's latest band – Slash ft. Myles Kennedy and the Conspirators (SMKC for short). In my opinion, there is nothing better than Slash on guitar and Myles Kennedy on vocals. Those two together are pure magic! But I also love Alter Bridge, Aerosmith, Nickelback, Joan Jett, and absolutely anything featuring Todd Kerns. In fact, the last concert I attended was an acoustic show Todd Kerns did in Vegas in February in support of his upcoming album, TKO.
Oh!  I love SMKC too!  You and I could probably talk music all day long.  Do you have a bestselling or "breakout" book you'd like to tell me about?
Unfortunately, not yet. I've had certain books hit the top 100 on different charts on Amazon, but I'm still waiting for that real (what I would consider) "breakout" book.
Here's hoping it happens soon for you.  Have you written in other genres or do you plan to? Please tell me about them.
Yes, I actually write in two other genres – Romantic Suspense and Shifter (PNR) Romance. I currently have an ongoing Romantic Suspense series called The Kelly Family. It's about a family of police officers and the ups and downs they go through on the job and in their love lives. There are currently six titles in that series with one on the way. I'm also currently working on book 1 of a new romantic suspense series called The Issac Taylor Mysteries.
As for paranormal, I have a shifter romance trilogy called Lunar Falls. It's about the werewolves living in my home state of Ohio. Then there's the Rock Shifter Fairytales series that I mentioned before. And my latest release is actually another shifter romance novella called Rogue Moon, and it's book 1 in a new series as well.
It seems a good many authors struggle with writer's block. How do you cope with that particular problem?
Well, I've actually been really fortunate and that doesn't happen often to me. But one of the ways I avoid it is that my natural writing process is to plot. I'm a big time plotter! I'm one of those writers who plots an entire story from start to finish before I ever write a single word. And my outlines can get extremely detailed, so much so that I've actually come to think of that outline as my first draft of the story. It's that important of a step for me. And I find that once I have the story all plotted out, there's really no room for writer's block to creep in because if I've outlined properly, then I always know exactly where the story is going.
Now that's not to say that the characters don't sometimes take control of the wheel and steer me in a totally different direction, because that happens occasionally. And when it does, I go with it, but I'll actually go back and revise my outline just to keep everything straight in my head.
Any rituals you perform before, during, or after you write? Anything you do to get "in the zone"?
I tend to make a playlist for each story, or each series, and I'll listen to that playlist quite a bit as I'm writing because I feel like it helps me to get into my character's heads a little bit. Also after finishing a story and getting it back from the editor and everything, I'll usually treat myself to a Krispy Kreme or something.
Any of your characters you love more than any others? Hate? Any of them "speak" to you more loudly?
I can't say that I love any of them more than the others, but my first hero – his name was Joshua Pierce – he will always be special to me because he was my first.
How much of you can we find in your characters? Can you give us an example?
Well, I think there's a little bit of me in many of my characters, just like there's a little bit of my husband in others. But I think the one that is most like me would have to be Dr. Carly Tipton of the Lunar Falls trilogy, only because she's from my hometown and the story takes place in Ohio. And she's a veterinarian, and I worked in the veterinary field for many years before I started writing.
If we had to read one book of yours, which one would you recommend and why?
Only one? Oh, gosh, that's too hard! That's like choosing between your children! I can't answer that.
Ha ha! That's what I always say too! Tell me about something exciting or weird that's happened to you since becoming an author.
Well, it's always awesome hearing from readers who have read my books and enjoyed them. That always makes the day special for me. But one very exciting thing that's happened was getting to meet my favorite rock star and having him agree to an interview for an upcoming book. That was the freaking coolest night of my life, and getting to know him and interview him has been amazing.
Ooh.  I can't wait to hear more about that in the near future!  What else do we need to know about you and/or your books?
I guess what you should know is that you're always going to get the same thing from me. You're always going to get a happily-ever-after. Always. You're always going to get a satisfying story with an actual plot, and not just a bunch of sex scenes with little substance. And you can always count on my stories having one of three tropes – cops, werewolves, or rock stars. Always. In fact, you're likely to find more than one of those tropes in any given story.
Lashell Collins is an Amazon bestselling author of romantic fiction. You can stalk her at the following places…
Website: http://lashellcollins.com/
Facebook Author Page: https://www.facebook.com/LashellCollinsAuthor/
Facebook Profile: https://www.facebook.com/lashell.collins.9
Facebook Reader Page: https://www.facebook.com/groups/853329598037117/
Rockstars Among Us: https://www.facebook.com/groups/503989643074118/
Rockstar VIP: Main Stage: https://www.facebook.com/groups/443969222459600/
The Wolf Pack: https://www.facebook.com/groups/1435064660059434/
Book Chat: http://www.tracieandlashell.com/
Twitter: https://twitter.com/LashellCollins
Amazon Author Page: http://www.amazon.com/Lashell-Collins/e/B00BHMAURS/ref=dp_byline_cont_ebooks_1