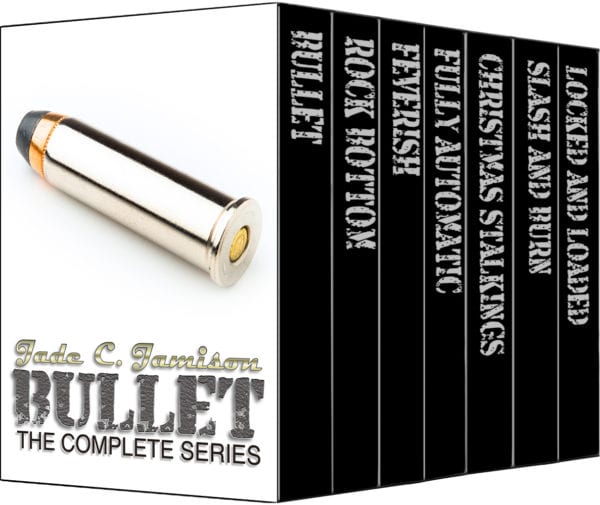 Find out why readers have dubbed Jade C. Jamison the "Queen of Rock Romance" with the complete Bullet series, described as "gritty," "raw," and "real." Realistic rock stars, real angst and heartache in this true-to-life glimpse of sex, drugs, and rock and roll.
About the Book
BULLET (Book 1)
An Epic Rock Star Novel
What if you discover the man you want is toxic?
She tasted a little bit of heaven with him, and now they've gone through hell and back, but can their relationship take anymore?
Valerie Quinn is a naïve college freshman when she meets on-the-rise rock star Ethan Richards. He's an idealistic, handsome, reckless young man, but he's captured her heart. She doesn't give up on him and eventually his walls crumble down. By the time Valerie has given herself to him completely, she discovers he's damaged and may be beyond help. Can she save Ethan and their relationship before he implodes, or will he self-destruct and take her with him?
CAUTION! SPOILERS follow in the remaining book descriptions!!!
ROCK BOTTOM (Book 2)
Rock star Ethan Richards has fought depression and a host of other demons all his adult life, and it's caused him to lose everything–his wife, his son, his friends, and he almost loses the one thing that means the most to him–his band. He hits rock bottom and believes there is no way out.
Enter Jenna McCormick, a feisty drug and alcohol counselor, a woman with her own share of troubles. She finds Ethan intriguing but keeps him at a distance while trying to help him face life without crutches. She feels a spark but denies it, knowing that a relationship with unstable Ethan could be dangerous for both of them.
Ethan knows what he wants, though, and isn't used to being told no. Jenna isn't willing to risk Ethan losing his tenuous grip on sobriety, however, and is prepared to deny her deeper feelings to help Ethan climb out of his hole, but he learns how to let go of his pain when he finds that someone is prepared to walk with him through the shadows. Can he convince Jenna that they should take a chance on love or will they forever deny their feelings in an effort to keep Ethan on the straight and narrow?
FEVERISH (Book 3)
…To be loved by the good guy
…To be f**ked by the bad boy
He'll make you FEVERISH either way…
Clayton "Jet" Smith has enjoyed acting the part of rock star god / incorrigible bad boy since his breakup with rock goddess Valerie Quinn. He's racking up quite a score playing the field, and he has no plans to settle down anytime soon. His biggest problem these days is meeting his obligations. He's so busy having fun, he forgets the important things.
To help him out, he hires recent graduate Emily Brinkman to be his personal assistant, and he quickly finds a fire burning in his belly for her. There are two problems, however. The first is that Emily is engaged to be married, a fact that leaves Jet unfazed. The second problem isn't so easy to surmount, though: Emily is disgusted and unimpressed by both sides of the man.
Will Clay find a way to persuade Emily to try him out, not just for one night, but for all time?
FULLY AUTOMATIC (Book 4)
Brad's story
CHRISTMAS STALKINGS: A NOVELLA (Book 4.5)
Val, Brad, and the kids…and a stalker! – a suspenseful story
SLASH AND BURN (Book 5)
Is theirs a match made in heaven…or hell?
Nick's story
LOCKED AND LOADED (Book 6)
Is it too much to believe that someone keeps returning to your life because it's meant to be?
Zane's story
"This author does it right. She doesn't just throw the rockstar title around. Nope, she gives her readers what they crave. You can go in knowing you're gonna get the whole experience." ~ Rosa, iScream Books