Short and sweet…two awesome giveaways you won't want to miss!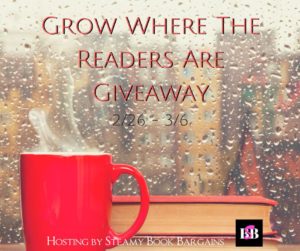 Check out the Amazon Grow Where the Readers Are Followers Giveaway 2/26-3/6!
Over 40 Romance Authors…
These authors have come together to offer you a quick, convenient way to get to know them, their new releases, and special deals…all in one place!
Even better, we've pooled our funds to offer an awesome giveaway! Enter to win Amazon Gift Cards or a Kindle Fire just for checking us out on Amazon!
http://steamybookbargains.com/index.php/grow-where-the-reader-are-amazon-giveaway/
SPREAD THE LOVE GIVEAWAY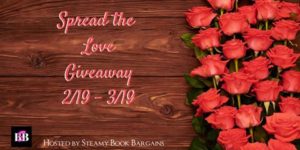 How much do we love our readers? We'd like to show you!
Enter to win $760 in Amazon Gift Cards!
One simple entry will give you one chance to win. Check out the bonus entries for additional chances!
Unsubscribe anytime, but please don't label us as spam. Better still, stick around and get to know us.
Participating Authors:
Taige Crenshaw | McKenna Jeffries | Amy L Gale | Liz Gavin | Sarah J. Stone | Pablo Michaels | Anna Paige | Laxmi Hariharan | Eden Ashe | Jennifer Locklear | Anne Stone | Kelli McCracken Colleen Charles | Kelly Moore | A K Michaels | Ann Omasta | Talina Perkins | Aliyah Burke | M.M. Chabot | Kelly Collins | Lola Jamieson | Tracy Ellen | Jade C. Jamison | Normandie Alleman | L.A. Remenicky | Kaiden Klein | Piper Rayne | Elisabeth Grace | Ysa Arcangel | Saskia Walker | Bethany Lopez | J.K. Harper | Em Petrova | Eva Winters | Monica Corwin | Charlotte Casey | Lena Bourne | Heather C. Myers | Aileen Harkwood
Enter to win!
Enter here: http://steamybookbargains.com/index.php/spread-the-love-giveaway/
Best of luck, my friend!