I don't talk about it much, but some of you might know that I have a son who's autistic.  What's sad is we didn't know it for years.  We knew he was "different," but we didn't quite know how to parent that little guy.  We made a lot of missteps along the way, but when we–with the help of professionals–confirmed he was autistic, everything changed.  He's a beautiful, wonderful soul who has made my life richer, and I'm grateful that he's my son.
But we had lots of challenges getting here, challenges that I think would have been mitigated by knowing he was autistic, and that's why I'm proud to support the 5th Annual Autism Awareness Auction sponsored by TTC Books and More.  All proceeds go to support autism awareness.  My hope is that there are other parents who will learn what makes their child beautiful and special long before I did.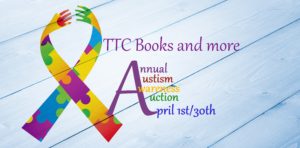 Want to get in on the action?  You can!
@TTC Books and More proudly presents the 5th Annual Autism Awareness Auction!
#LIVE ~> April 1 through April 30 http://bit.ly/2nJkCzK <~ Update: You may have to LIKE TTC's page in order to see the listings!
PLEASE #SHARE ~ #BID ~ #SUPPORT THIS EVENT!!
Over 50 contributing donors have come together this year! Items include books (digital, audio, signed, unsigned, and ARC paperbacks), gift cards, jewelry, collectibles, customizables, a kindle fire, author services, and even artwork from an autistic teen daughter of one of the donors!
100% of all bids will be donated directly to @AutismSociety and/or @AutismSpeaks.
A Special Thanks to the following, for their generosity in donating or previously gifting items:
Susan Griscom – Author / Alexa Land / Amy Lane / Andrew Grey / Ann Lister / Annabeth Albert / Caitlyn O'Leary – Author / Cate Ashwood, Author / Author Nico Jaye / Author Charlie Cochet / Clarissa Wild / Debra Jess – Author / Donna Milward, Author / DRCPromo / Dreamspinner Press / Ethereal Ealain / Felice Stevens Author / Happily Ever Chapter > Gail McHugh , Jane Porter , Jeannie Lin – Official Author Page , Callie Hart , Raven Jones , Alex Grayson, Author / Jacob Z. Flores / Jade C. Jamison / Jake C. Wallace – Author / Simply Defined Art / Jeff Adams / Author Kindle Alexander / L. A. Witt – M/M Fiction / Leta Blake, Author & Alice Griffiths / Author LK Collins / Lori Foster / Marie Sexton / Mika Jolie / Morticia Knight / Nic Starr's Page / Prezidential Visions / Queeromance Ink / RBTL Book Promotions / Rick R. Reed / Riptide Publishing > Vanessa North , Cari Zee , Garrett Leigh , Jl Merrow / RJ Scott / (Official) Sandrine Gasq-Dion / Sean Crisden / Stacey Kennedy / Author Susan Mac Nicol / Author TM Smith / TTC Books & More > Andrew Jericho , Jaime Reese – Author , Tal Valante , Aleksandr Voinov , Kristen Simmons , Karen Finneyfrock , Colleen Houck , Erin Lyon , Scott Snyder / A.E. VIA / Z. Allora Books / Jana Oliver / Love Bytes Reviews / Mary Calmes / KB Winters – Romance Author / Pamela Hearon / Enticing Journey Book Promotions / Leigh Carman / Wilde City / Lori King-Author / Tracy Tappan Romance Author / Jennifer Estep / Betty Smith / TRSoR Promotions > Tara Sue Me , Shayla Black/Shelley Bradley , Lexi Blake
Many, Many thanks to all of the generous donors and to all of the generous bidders!
#SHARE ~ #BID ~ #Support NOW!  #Charity #Donation #Benefit #GoodCause  #AutismSociety #AutismSpeaks