Some of you have been waiting (as patiently as possible) for the next installment in the Nicki Sosebee series.  I'm happy to announce that it is almost here! Dead Bodies Everywhere, Nicki Sosebee #11, will release on May 19, 2017, and I'm excited to share it with you.  After this book, there are two books to go, so you'll notice in this book that things are getting tense and twisted and…but enough about that.  You'll have to wait to read it.  In the coming weeks, I'll be sharing a snippet or two with you and probably doing some fun things on Facebook (some of my readers there have been asking me to do a live video) to prepare.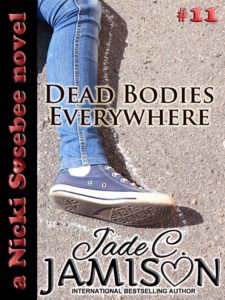 First…what's in store for Nicki this go-round?
Nicki Sosebee is getting closer to something. She just doesn't know what.

Nicki's sleepy hometown of Winchester, Colorado, is the kind of place that deals with two or three deaths a year, not two or three a month, but a serial killer is brutally murdering young adults in the most gruesome ways. With the help of her friend, investigative blogger Janice Breaker, Nicki feels like they're on the verge of solving the mystery. Instead, she discovers that the corruption in her town reaches far and wide. As she gets closer to discovering the answer to all the dead bodies in her beloved town, she has to decide if she needs to stick to her guns or if it's better to walk away and leave the headline for another day…
Next, where can you get this baby?  I've got your pre-order links right here:
Amazon
Amazon UK 
Amazon CA 
Amazon AU 
Barnes & Noble 
iTunes 
Kobo 
Google Play
So what's the pre-order bonus?  And how do you get it?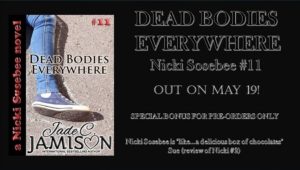 Well…the pre-order bonus is a fun little file written by Nathan Wright, detective with the Winchester Police Department–it's a dossier he's called "The Drug Problem in Winchester County," and he's written it for his bosses.  It gives his opinions and assessments of the plague of drug-related crime in his fair city, and he gives details about the folks involved, ranging from Nicki to the nefarious Cecil Montgomery and everyone in between.  And this dossier is available ONLY to folks who pre-order the book.  If you're a huge Nicki fan, I know you're going to get a kick out of this.  Here's how you can get your copy:
Pre-order Dead Bodies Everywhere (see links above)
If you do not have a receipt, screen cap relevant info
Forward proof of purchase to the following email:

You will receive your dossier in less than 48 hours!
Oh…one last fun thing.  If you want to know who your Nicki book boyfriend should be, you'll want to take this quiz on Playbuzz:  Which Nicki Sosebee boyfriend is right for you?
Wait…what?!  You haven't read Nicki yet?  Well…we can remedy that.  Here are some quick links for ya:
The Nicki Sosebee Collection (Books 1-7)
Got the Life (Nicki #1)
Dead (Nicki #2)
No Place to Hide (Nicki #3)
Right Now (Nicki #4)
One More Time (Nicki #5)
Lost (Nicki #6)
Innocent Bystander (Nicki #7)
Blind (Nicki #8)
Fake (Nicki #9)
Lies (Nicki #10)
*Thank you to Sarah L of my Street Team for the awesome banner
**Heads up!  Nicki's email address will be decommissioned as of May 19 when the book goes live.