My friends, you know by now that I don't do KU very often.  I try it out now and then and always go back to wide distribution–mainly because KU hasn't benefited me much at all over the years, and it certainly doesn't benefit a lot of my readers (those who use KU, but that's about it).  But I wanted to try something different with the release of Scorched.  I have a big strategy (more long-term than I have for most books) and KU is part of that.  Readers who follow me closely know I released it wide for pre-orders and the first day but then that it will only be available for Kindle until the end of December.
If you're a hardcore reader of mine, you probably already knew this.  If you're not a hardcore reader, though, but you have a subscription to Kindle Unlimited, then you might want to read on.  Even if you've already read Scorched, there are some other great KU books available in the challenge I'm going to tell you about!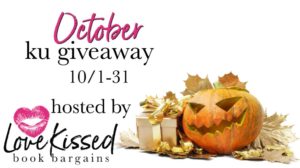 Check out the October KU Challenge & Giveaway!
Over 45 Romance Authors are sharing KU Books. If you have a Kindle Unlimited subscription, here's a great way to get a lot more out of it!
Even better, we've pooled our funds to offer an awesome giveaway! It's just our way of thanking our loyal readers.
Here's the link to the October KU Challenge & Giveaway: