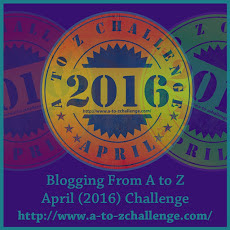 What the hell am I talking about? Let me tell you! For the fun of it, I am joining the "Blogging from A to Z April Challenge" (you can see some of the "official" rules here: http://www.a-to-zchallenge.com/p/a-z-challenge-sign-up-list-2016.html). Basically, I have to post every Monday through Saturday, and each day, I have to blog about something beginning with a letter of the alphabet. Today is A, for example, and B is tomorrow, C is Monday, etc. The past month I haven't been able to post much (and that's after posting every single day for a couple of months), so when I signed up for the challenge, I tried to decide what and how I wanted to approach it. So, in addition to blogging about something having to do with the day's designated letter, I have some "rules" for myself!
I am going to be writing a story, and each day will be a little more of it (the actual story will begin on Tuesday, I think.  The other two A-to-Z posts will set up what I'm doing).
I am going to try (but we'll see) to write 1000 words per post once I get to the story itself.
I am going to try to write a coherent story.  The biggest problem with that is that I haven't fully fleshed out the idea in my head.  Usually, I need to be at a certain place in my mind to begin telling a story, but I'm going to be pantsing harder than ever in this challenge!  (If you don't know what I mean by pantsing, you'll want to reread the blog post "Labor Pains.")
The official challenge has other rules.  For instance, I am strongly encouraged to visit at least five other challenge blogs a day, and I think that's a great idea.  There's also a theme but it's not a mandatory part of the challenge, and I'd already had the idea to write a story before I found out there would even be a theme.
My regular readers might be asking what I plan to do with the story.  Well…I do plan to leave it up on my blog–it will be edited like all my blog posts, but the story itself will be unrevised–it'll be raw.  It will be much like my books long before readers pick them up…but you'll (maybe) get an idea of my writing process.  I am strongly considering moving it to Wattpad one chunk at a time once I'm done writing the entire story and then, eventually, I will publish it.  I am thinking this book will be the first installment of what I'm calling my "Nicki replacement" series, something for me to write after the Nicki Sosebee series winds up at the end of this year.  I already know the characters and setting and partially know the plot, and I'm excited!  I think this will be loads of fun.  Thanks for joining me!
Oh, yeah, one last thing–Sundays will probably be reserved for interviews and other fun stuff.  😉  Stay tuned.
~ ~ ~
UP NEXT: B is for BLURB
TAKE ME TO THE STORY: C is for CODIE