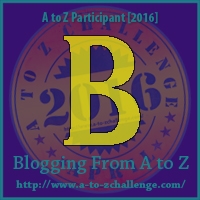 Soooo…. I believe a good many writers are able to compose their book's blurb early on before they start writing their book.  Sometimes I can, but not always.  I have to know my characters and the story, but that's all I need to get started.  Sometimes I know exactly where the story's going and that's when I compose the blurb first.
In the case of the story I'll be writing for the A-to-Z Blogging Challenge, I have no clue how to write the blurb.  I'm not ready yet.  I've only got the beginnings of the plot.  Enough, though, that I can get started.  So, instead of a blurb today, I'm going to give you a tiny idea about the plot–this is the Beginning (ha!  Did you catch that?) of my writing process.  You're going to see it raw and unrefined–very little editing or revision–long before I "officially" publish.
Like I said, I start out with an idea.  Think of it as going on a cross-country trip.  Sometimes you have it all mapped out–you know exactly where you're going to go, stop by stop, to your ultimate destination.  You have money set aside for certain things and you know some of the sights you'd like to see along the way.  Well, writing this particular story, I'm making the cross-country trip, but I only know what direction I'm going.  I'm going to hit the highway, turn the car in the right direction, and put the pedal to the metal.  Here are the ideas in my head (the direction!):
The characters…first, we have Codie.  I debated for a while if I wanted to spell her name Cody or Codie (or even Codi) and I might still change my mind, but that's her name.  I still don't know for certain what her occupation will be, but I'm considering having her be a CNA.  She lives in a small Colorado town (that I think I'm naming Dalton–because [let's face it] I've had far too many stories in the fictional Colorado town of Winchester).  If you've read my Nicki Sosebee series, then you know the type of character Codie is going to be–independent, mouthy, sassy, and free spirited.
Next, we have…her gay roommate.  I have been struggling with his name, but he is her bestie.  I don't know his name yet!  But they've been friends since middle school.  He is a paralegal for one of the biggest law practices in Dalton–which isn't saying much.  Lucky Codie gets to hear about a good many of his sexcapades.  😀
Then there's Slade, Codie's hot on-again, off-again boyfriend.  She thinks she loves him, but they have issues.  They're both commitment-phobic, for starters, and don't know exactly what they want out of life or their future partners.  They enjoy each other but don't know if they're ready to spend the rest of their lives together.  They only know they make sweet music together–when they're getting along.
This is going to be a story of danger and intrigue, and it starts out with Codie going on a ride-along with an ex-boyfriend.  He was once a football player; now he's a cop.  And what happens during this ride along makes Codie decide she wants to find out more.
Ready to read the story?  Tune in on Monday when I'll start in earnest!
Wondering what the hell I'm talking about?  You can read this post:  A is for ACCEPTING the Challenge
You can start reading here:  C is for CODIE