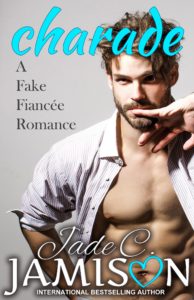 Charade
(A Fake Fiancée Romance)
Jade C. Jamison

Release date: October 23, 2017
Genres:  Contemporary romance
Audience:  18+ due to sexual situations and adult language
Blurb
No kissing necessary. Definitely no sex required.
Erica Larson had dreamed of being a lawyer for as long as she could remember, but the job at Ford & Associates—a family business run by a father and his three sons—is sheer drudgery. Erica is ready to pull up stakes and move home—until devilishly handsome but arrogant Brock Ford, the youngest son, makes her an offer she can't refuse.
Play his fiancée for a month…maybe two, because his future with the firm depends on deception.
Just attend a function here and there.
No kissing and definitely no sleeping together.
Well…maybe one kiss.
Or two.
And, before Erica knows it, she's doubting if she can distinguish between fiction and reality, because her heart can no longer tell the difference. Can she stop herself from becoming a victim of his charm before it's too late?
Links
Amazon: https://www.amazon.com/dp/B076KF3K8M/
Amazon UK: https://www.amazon.co.uk/dp/B076KF3K8M
Amazon CA: https://www.amazon.ca/dp/B076KF3K8M
Amazon AU: https://www.amazon.com.au/dp/B076KF3K8M
Barnes & Noble: http://bit.ly/2ihyBZF
Apple: https://itunes.apple.com/us/book/id1296852956
Kobo: https://www.kobo.com/us/en/ebook/charade-31
Google: http://bit.ly/2x8bKpK
Goodreads: https://www.goodreads.com/book/show/36298906-charade
SAMPLE CHAPTER HERE: https://www.jadecjamison.com/2017/10/15/first-chapter-of-charade/
EXCERPT
Brock strode over to the table and touched Erica's arm—on the inside just above the elbow—and it got her attention, just as he'd hoped. She turned slightly and he knew he couldn't hesitate. He pulled her close to him and consumed her mouth. It wasn't going to be the first kiss girls dreamed of—sweet, soft, and gentle. Instead, it was going to be possessive and lusty-looking…but it was all for show. Yes, he knew she'd be angry, but she'd get over it.
He knew what was at stake here.
As his mouth touched hers, though, their lips ignited. Holy fuck. This was something he hadn't expected—a huge spark between them. He touched her tongue with his then—completely unnecessary per his plan—but now that he was committed, he couldn't stop himself, any more than he could stop the snow from falling come winter. She tasted sweet, like nectar from the most delicate pink flower, but all he could think of was sin. Now that he was suckling her lips, he could feel a burning desire to consume all of her…
***
If you need any other info, please don't hesitate to email Jade (or use the contact form) and she will get back with you ASAP.  Thank you for your interest!