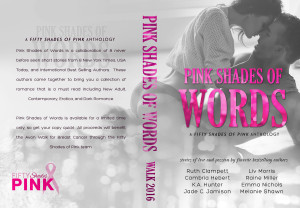 Pink Shades of Words:
A Fifty Shades of Pink Anthology
by
Ruth Clampett
Cambria Hebert
K.A. Hunter
Jade C. Jamison
Liv Morris
Raine Miller
Emma Nichols
Melanie Shawn
Master Organizer: Glorya Hidalgo
Cover Designer: Regina Wamba
Formatter: Julie Prestsater
Thank you to everyone who has donated their talents and time to this worthy cause!
Friends, I am truly honored to once more be a part of this amazing and awesome anthology which brings thousands of dollars to breast cancer research every year.  I am humbled by the time and effort put forth by so many wonderful people coming together, and I'm proud to be a part of it!  Thank you to all my readers who donate to the cause and also to those of you who get the word out there.
You'll notice it's a little different this year–fewer authors but still a huge collection–and less time to buy, so don't delay if you want to get your copy!
Pink Shades of Words is a collaboration of eight never before seen short stories from Bestselling Authors. These authors come together to bring you a collection of romance that is a must read for book lovers including New Adult, Contemporary, Erotica, and Dark Romance.
Titles are…
Let's Pretend by Ruth Clampett
Mr. X by Cambria Hebert
Indemnity by K.A. Hunter
Escaping the Cocoon by Jade C. Jamison
Hard Luck by Liv Morris
Filthy Rich (Blackstone DYNASTY 1) by Raine Miller
The Decoy by Emma Nichols
Book Boyfriend by Melanie Shawn
Pink Shades of Words will only be available for purchase from April 1, 2016, to May 31, 2016! So purchase your copy now!
Pre-Order Here:
Amazon: bit.ly/1Pv2Kv6
iBooks: apple.co/1RqWWaG
Nook: bit.ly/1RAWbZz
Kobo: bit.ly/22Ks8Xa
All proceeds will benefit the Avon Walk for Breast Cancer through the Fifty Shades of Pink team.
All proceeds go to Avon Walk for Breast Cancer. Last year, $3,500 was raised!!!
Let's top that this year!