My upcoming release has been a long time coming.  Some of you might know I actually started writing it in May of this year.  Since then, my personal life has become a bit overwhelming, and that, of course, has slowed my progress.  That said, now that the hardest part is behind me, I know you will love the finished product.  It's dark (yet full of hope) and steamy in the right places.
But enough about me.  How about a little info about the book that you've been waiting forever for?  🙂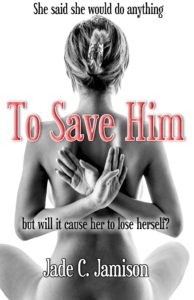 To Save Him
(formerly known as December Lust)
Jade C. Jamison
Release date: November 21, 2016
Genres: Contemporary romance, dark romance, May-December
Audience: 18+ due to sexual situations, adult language, BDSM situations, and descriptions of torture
Blurb
A new look at the May-December romance…
She said she would do anything to save him…but will it cause her to lose herself?
What if she was wrong? What if Brandon Abbott is not who he says he is?
Kimberly Cooper's emotional compass has been off since her bitter divorce and the death of her oldest son, so when young soldier Brandon shows up at her door, she invites him to be part of her family's life. He says he was friends with her deceased son…
But things don't seem to add up.
And then, when she becomes sexually attracted to him, all bets are off.
When her heart trumps her brain, will she know if she was wrong or will she learn the truth after it's too late?
Links
Goodreads: https://www.goodreads.com/book/show/30184761-to-save-him
Amazon: http://amzn.to/2exi1Cn
Amazon UK: http://amzn.to/2duFRNt
Amazon CA: http://amzn.to/2ezZX9F
Amazon AU: http://amzn.to/2ecX8i5
Barnes & Noble: http://bit.ly/2erkT6y
iTunes: http://apple.co/2eMjqnF
Kobo: http://bit.ly/2eqgKBt
Excerpts
#1

There was a sadness about Brandon that touched my heart. I could sense that he had so much more to say, but the words couldn't find a way out. Maybe he needed time, but there was also a chance that those words would be forever buried inside him.
"Brandon, I haven't been a Christian woman since the day I learned of my son's death, but it wouldn't be very Christian or civil of me to turn you away after dark." I took a deep breath and saw him mustering up an argument, but I began speaking again before he could protest. "Ordinarily, I'd have a guest stay in the extra bedroom, but—if you'd be okay with it—I'd imagine Gabriel would like to have you stay in his room. It's…been unoccupied for a very long time."
There was a long pause until JR clamored, "Please?"
Brandon's struggle was evident in his eyes but he said, "That's very kind of you. I'd…appreciate it more than you know."
His soul had spoken to me that night. It was the night I fell in love with Brandon Abbott.
#2
I looked Brandon in the eyes. It was like he was a completely different person. I sucked in a deep breath, trying to find words to say what was resting in my heart, but before I could do that, my ears perked up.
Footsteps on the front porch. Voices.
Oh, shit.
Brandon's eyes mirrored the shocked look in mine and we separated quickly, almost like sixteen-year-old kids caught in the backseat of a car by the girl's daddy. He knew too that it was Mel and my children, having returned from dinner. Their voices sounded happy and light, and that was a good sign that their time together had been even better than anyone had anticipated. Unfortunately, I couldn't enjoy that sound in my utter panic.
Jeans zipped; boob tucked back in bra; but where the hell was my t-shirt? Brandon was already dressed and found my shirt long before I did, on the floor behind the island. I yanked it down over my head as I heard the front door push open.
Jesus. My heart couldn't handle such a close call—especially after such a vein-pounding exercise just moments earlier. I tugged on my shirt and let out a slow breath, glancing once more at Brandon and realizing his hair was messed up, thanks to our activity moments earlier. I reached up and smoothed it down as his eyes grew wide. He moved his hands to his head and I got out of the way. As we heard bodies moving into the house, he whispered, "Does it look okay?"
One last glance. "Yes."
Why the hell did I feel so guilty, like we'd almost been caught engaging in a crime?
~ ~ ~
I cannot wait to share this book with you!  If you like teasers, be on the lookout for more in the coming weeks.
If you have a second, please tell me in the comments below what you think of the cover!