My lovely friend M.M. Crumley recently finished writing and editing her book series The Legend of Andrew Rufus.  I'd been awaiting the first book for quite some time and I wanted to review it. Friends, you probably already know that I've never reviewed books on the Almighty 'Zon.  For years, I chose not to because I've seen lots of my friends banned from reviewing on the site for the lamest of reasons.  (I'll whine about that later if you're interested.)  Anyway, in case you hadn't figured it out yet, I tried to review Dark Awakening, book one in the Andrew Rufus series—and my worst fear was realized.  I was banned out of the gate, despite never posting a book review in the past!
I did post a review on Goodreads (because, even though that site is also owned by the Zon, they aren't as restrictive.  Yet). 
But enough complaining.  I really just want people to know about this amazing book.  Now, if you're one of my regular romance readers, Crumley's book won't necessarily be for you—but if you have kids (or a special niece or nephew or grandchild), you might be happy to get them hooked on this fantastic debut.  I loved the book!  I think of it as Harry Potter meets Hunger Games—wrapped up in a Mark Twain tortilla.  Goofy…but you get the idea.  Here is the official review I tried posting on the Zon but wound up only posting on Goodreads: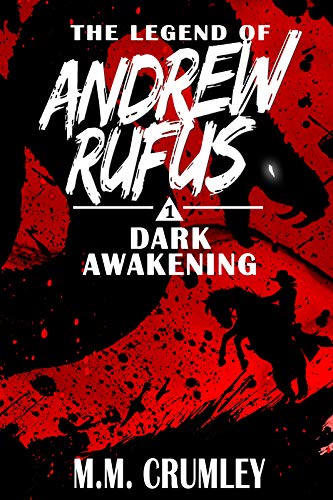 What if Harry Potter met Katniss Everdeen and Mark Twain told the story? Well…you'd still have a long way to go to describe this unique yet charming story. Crumley's debut is nothing short of genius. Andrew Rufus is too young and too inexperienced to save the world, and yet he's been put in the position to do just that–so, needless to say, he has to grow up rather quickly. All of Crumley's characters, from Andrew to rough-and-gruff Pecos Bill and his sidekicks, are well-drawn and relatable in their own way. Andrew and Pecos are tied together inextricably for some unknown purpose, and neither knows how to remedy the situation. It's this (along with the inevitable destruction of the world by a gigantic snake) that keeps me turning pages. I can't wait to read book 2!
Right now, the books are only available on Amazon.  You can check out book #1 here:  https://amzn.to/2ZkRYGj
By the way…it looks like the Kindle edition of the book is on sale for 99 cents for the next five days, so snag it now!!!
Thanks, my friends, and happy holidays!
P.S.  Mini rant:  I really hate monopolies.  And most of us should.  One of the reasons I abhor them is because those companies wind up making the rules—and we have to follow them whether we agree or not…and this rule of not reviewing another author's books or not reviewing a friend's book?  It's just ridiculous.  I bought the book and read it and was leaving an honest review.  And that's how lots of people figure out what they want to buy—reading reviews from people they trust! 
So…How do you feel about that review policy? Let me know!