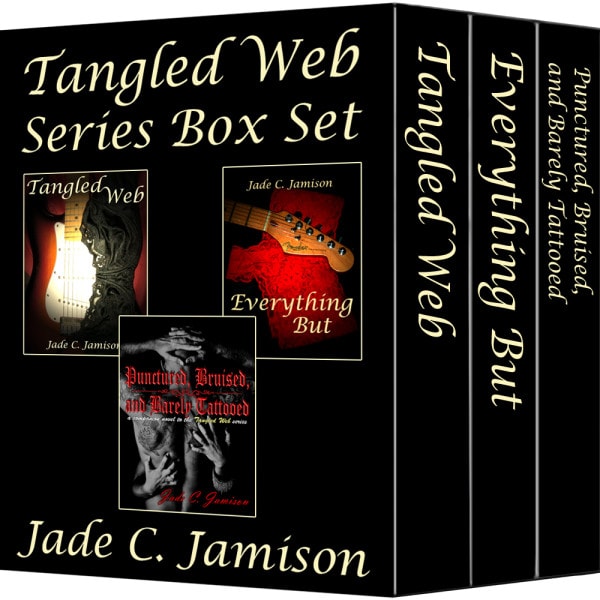 Jade C. Jamison's "other" rock star romance series!
Includes TANGLED WEB, EVERYTHING BUT, and the companion novel PUNCTURED, BRUISED, AND BARELY TATTOOED...as well as three never-before-seen bonus stories!
About the Book
TANGLED WEB
Katie Logan has had a secret crush on her best friend Johnny Church since high school, but he's never looked at her the same way. So when Johnny—now a famous rock star—comes home to visit, Katie can't bring herself to tell him she's engaged to be married. She should have, though, because she soon discovers that maybe the attraction is mutual…
EVERYTHING BUT
High school English teacher Erin Lancaster is stuck with the unwelcome job of filling in for the injured cheerleading coach, but she wants to back out when she discovers she has to be auctioned as a date during the annual spring fundraiser. She's horrified to find her rock star crush Riley Schultz, former frontman of Spawn, will be playing emcee for the event, but she's even more shocked that he also happens to be the highest bidder for her affections, and sparks fly when she discovers that maybe their attraction is mutual.
Riley's been in the music business long enough to know that true love is not in the cards for him, but the cute blonde he's dropped a wad of cash on would be a welcome distraction during his vacation. He has no idea there's more to her than meets the eye.
Will one week together be enough for them to quell the flames, to enjoy everything but?
PUNCTURED, BRUISED, AND BARELY TATTOOED (companion novel)
Kory McCallister has had her eyes on tattoo artist Stone Bowman for quite some time—so long, in fact, that no other guy will do. Stone pushes every turn on button Kory has—he's tattooed from head to toe; he's hot; he's funny and charming; and he's also mysterious. So when Kory's friends dare her to ask Stone out on a date, she can't believe she actually finds the guts to do it.
More surprising? He takes her up on the offer.
She discovers that, while his past might not be quite as dark or mysterious as she'd imagined, it's bigger than she'd expected, and it's something she will need to contend with if she decides she wants to keep him around to color her life for good.
Other Books in "Tangled Web"