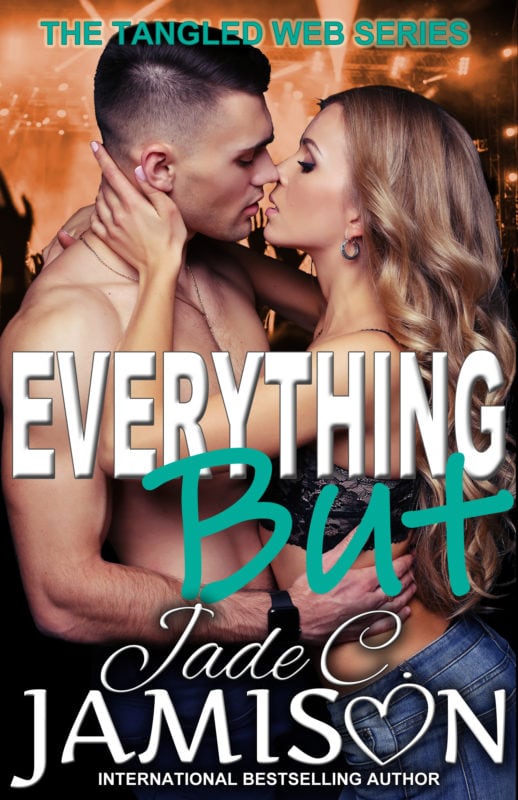 High school English teacher Erin Lancaster is stuck with the unwelcome job of filling in for the injured cheerleading coach, but she wants to back out when she discovers she has to be auctioned as a date during the annual spring fundraiser. She's horrified to find her rock star crush Riley Schultz, former frontman of Spawn, will be playing emcee for the event, but she's even more shocked that he also happens to be the highest bidder for her affections, and sparks fly when she discovers that maybe their attraction is mutual...
About the Book
Riley's been in the music business long enough to know that true love is not in the cards for him, but the cute blonde he's dropped a wad of cash on would be a welcome distraction during his vacation. He has no idea there's more to her than meets the eye.
Will one week together be enough for them to quell the flames, to enjoy everything but?
---
When I published Everything But, I discovered for the first time that I had readers!  They came out in droves to buy Tangled Web 2, and wow.  So exciting for me!  Here's what some of them had to say on Amazon:
"Erin thinks that Riley is not Mr. Right, just Mr. Right-Now. A metal legend wouldn't be interested in her for more than a one night… or one vacation tryst. Erin is so sure of inevitably being left behind that she fights the feelings that are so immediate and so explosive for both of them. Riley took one look at her and was drawn in. Even he's not sure at first that it could be love. It's happening too fast, but he never gives up in pursuing her. When he makes mistakes and he owns them. When she plots a little get-even, he appreciates the humor of it, and oh, my God what a scene!
I love Riley. I was rooting for him the whole way through…. well except for the hotel, but you know that's a girl thing. Erin gets him. So, I want his dog tags… and the handcuffs!" ~ Mary Lou, The Page Princess
"This book is an earlier, tamer version of the metal lifestyle to come in the BULLET series, but it is wild enough to get my blood pumping and the sex is "oh my god" delicious." ~ Sue
Other Books in "Tangled Web"