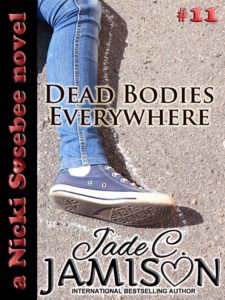 Dead Bodies Everywhere
(Nicki Sosebee #11)
Jade C. Jamison
Release date: May 19, 2017
Genres: Romantic suspense, contemporary romance
Audience: 18+ due to sexual situations, adult language, and descriptions of death
Blurb
Nicki Sosebee is getting closer to something. She just doesn't know what.
Nicki's sleepy hometown of Winchester, Colorado, usually has to deal with two or three deaths a year, not two or three a month. With the help of her friend, investigative blogger Janice Breaker, Nicki feels like they're close to solving the mystery—and she thinks she's right about her number one suspect.
Meanwhile, her love life might be looking up.
But as she gets closer to discovering the answer to all the dead bodies in her beloved town, she has to decide if she needs to stick to her guns or if it's better to walk away…
Links
SPECIAL BONUS WITH PRE-ORDERS! Details here: Nicki Special Bonus
Amazon: https://www.amazon.com/dp/B06Y5WPY92
Amazon UK: https://www.amazon.co.uk/dp/B06Y5WPY92
Amazon CA: https://www.amazon.ca/dp/B06Y5WPY92
Amazon AU: https://www.amazon.com.au/dp/B06Y5WPY92
B&N: http://www.barnesandnoble.com/w/books/1126192317?ean=2940154265062
iTunes: https://itunes.apple.com/us/book/id1225592683
Kobo: https://www.kobo.com/us/en/ebook/dead-bodies-everywhere-nicki-sosebee-series-book-11
Google Play: https://play.google.com/store/books/details/Jade_C_Jamison_Dead_Bodies_Everywhere_Nicki_Sosebe?id=JO-jDgAAQBAJ
Goodreads: https://www.goodreads.com/book/show/16102432-dead-bodies-everywhere
Excerpt
An officer in uniform approached the yellow tape that acted as a pathetic barricade to the middle of the alleyway, ready to turn Nicki away. Before she could reach in her purse to find her press credentials, Detective Nathan Wright appeared. "Aw, Sosebee. You do love me. You remembered the coffee."
The uniform nodded slightly before stepping away, and Nathan raised the tape with his hand so Nicki could duck under it. "Don't say I never did anything nice for you."
Nathan was sneering, one eyebrow cocked. "I take it back. You don't love me. You brought me convenience store coffee, not real stuff."
"It is real. Smell it."
"Yeah…real old. If I'd wanted convenience store coffee, I could've walked around the corner before you got here."
"That place is still open?"
"Yep."
"I didn't have many choices, considering I promised to be here in half an hour."
"Guess I'll cut you some slack then." He ripped open the two sugar packets and sprinkled them in before replacing the lid and taking the coffee cup out of the tray, leaving it in Nicki's hand. Rather than give him shit about it, she walked the few steps to the dumpster and lifted the lid to toss the trash in—and then she saw the body without any warning or preparation.
Nicki swallowed hard and turned quickly to look at Nathan. "Sosebee, you look like you've seen a ghost." She wasn't surprised—she could practically feel how the blood had drained from her face. Nathan started laughing then. "I guess you have seen a ghost."
Nicki felt her eyelids lower. "That's a bit gruesome, even for you, Detective."
He shrugged. "Gotta find humor where we can." He took several steps toward her but kept walking until he was right next to the lifeless body sprawled on the gravel next to the dumpster. "So I'm pretty convinced this is the same killer as our park killer. Wanna know why?"
***
If you need any other info, please don't hesitate to email Jade (or use the contact form) and she will get back with you ASAP.  Thank you for your interest!