I conducted a poll a few months ago and asked my readers what they wanted me to write next.  Almost half of my readers wanted to read the second book in the Feverish universe (it is a spinoff of my beloved Bullet series).  So guess what?  I wrote it!  And now I'm aiming for a September 25, 2017, release date. Without further ado, let me share with you the cover and blurb!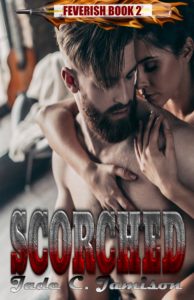 Scorched
Feverish 2
September 25, 2017
Contemporary romance, new adult, rock star romance

When you play with the Devil, you're going to get burned.
When Sam Archer, bad boy rock star, decides to move out of the city and do some soul searching, the last thing he expects to find is his new neighbor Gracelyn Ward. She's everything he's not—19 years old, religious, and an obedient child—but he finds himself falling for her anyway.
Gracelyn Ward has always had a crush on Sam—who hasn't? But she never thought he would be moving next door to her family and end up being so…likeable. Sam is everything Gracelyn's parents never wanted for her, not to mention that he's over 30. Despite her better judgment, it's not long before she's falling in love and beginning to question everything she's ever held dear in her life.
When her parents give an ultimatum, Grace and Sam are torn between desire and obligation. Will they succumb to the fire or will they get scorched by the flames?
I can hardly wait for you to read this!  I have grown to love Grace and Sam so much while writing this book…and I know you will, too!
GASP!  You didn't know about the Feverish series?  Let's get you started!
You can, of course, read this series without having read the Bullet series, but I recommend reading them all.  🙂
#1 Feverish, Clay's story
#1.5 Boiling Point, a novella
ADD Scorched to your Goodreads to read shelf: https://www.goodreads.com/book/show/36038803-scorched