I've been a heavy metal fangirl for a really long time, a fact I've never been ashamed to admit. It all started back in the 80s when I was a teenager. I discovered hard rock in the eighth grade and heavy metal in high school.
(One quick note: metal in the 80s is not quite like metal today. A lot of what we called metal then would be termed "hard rock" now.)
Don't get me wrong. I still love rock and metal today—always have; always will—but I might not have loved it as much had I not first experienced it as a teenager discovering who she was and what she wanted to be and learning quickly that music expressed my emotions and helped me process them in a positive way.
Although I started discovering the genre in middle school, it was in high school that I found bands I loved, thanks to the radio station. And when I got a "boom box" for my birthday, I started buying cassette tapes, devouring a band's entire album (or even their entire catalogue) once I realized I loved their music. Def Leppard was one of the first, but Mötley Crüe, Ozzy, Judas Priest, Quiet Riot, Dio, and so many more quickly filled my cassette case.
Meanwhile, my little sister and her friends were listening to a new singer by the name of Madonna.
It wasn't long before I realized that I not only loved the music but also the artists creating it. Back then, metal consisted mostly of men (there are quite a few more women in the field now), and I fell in love with them along with their music. I embraced it, having found music that seemed to express everything I felt.
However, out of all the musicians I have worshipped, loved, and supported over the years, there is one who's had my heart forever.
George Lynch. He's probably best known for his time in Dokken, but that's only a sliver of his work.
Anyway, when you look at guitarists in the 80s (hell, even before and after), Lynch's work is a cut above. He's a maestro, and it's emphasized by his signature sound. No one else's guitar or music sounds like his, which is probably why I've been a lifelong fan.
This story's gonna age me, but so be it. I remember Christmas Eve 1985 pretty vividly. I was a freshman in college, home for the holiday break, and my mom, dad, sister, and I had spent the evening at my grandparents' house celebrating—but the plan was to head home (just a few miles away) later. My sister and I left early because we had a secret plan. We'd purchased a bunch of fun things for our mom and dad: an ice bucket for wine, a silver platter, wine glasses, and more that I can't even remember. But we wanted to get home before they did so we could spread it all on the floor around the tree and surprise them.
I almost ruined that plan!
Because, just as we pulled up in front of the house, I heard a familiar-sounding guitar playing an unfamiliar riff. Instead of shutting off the car, I turned up the radio and said, "This is Dokken!" (Thus began my sister's brief interest in the band as well.) All this is to say I would know George Lynch's guitar anywhere. It turned out it was the new single from their new album that I hadn't even known was out!!!
A note in defense of my ignorance: first, I had been living in a college mountain town that had three music radio stations: two played exclusively country, and the college station was as alternative as it gets. Most of what they played I'd never even heard before! Second, though, was that college was new to me and I found that first semester grueling. My nose was always in a textbook. Third, I didn't yet have my subscription to Hit Parader to even know Dokken was working on a new album. After all, Tooth and Nail had just been released the year before (and that album had released two singles earlier in the year when I was finishing up my senior year of high school).
Meaning…I hadn't expected this new gem.
Fortunately, I came around. *wink* I realized then that, without my favorite radio station back home to keep me in the loop, I needed another way to find out when bands released new albums…so, thanks to MTV (once I was out of the dorms), Hit Parader, and a subscription to Columbia House, I kept myself in the loop in that isolated college town I grew to love.
Wow. That really does age me. *heh* MTV doesn't play music videos like they used to, and I'm pretty sure Hit Parader is defunct…and I know Columbia House is no longer around (at least, not the way they used to be). How things change!
But I digress with all this nostalgia.
The point I was trying to make was that there was no missing a Dokken tune and, back home listening to my fave radio station again, I didn't leave my car until the song "The Hunter" finished playing.
Merry Christmas to me!
But, as a poor college student having spent all her cash on Christmas, purchasing the album would have to wait a month or so.
Soon, a new semester started and I made new friends. My roommates and I were visiting a couple of guys in their dorm room and they were playing MTV in the background. Once again, I heard George Lynch's guitar cutting through the room and turned around to see yet a new single: "In My Dreams." And that song has one of the coolest solos ever, not just for the ear but for the eye. If you've never seen it, I highly recommend a quick watch!
It was then that I fell completely in love with the man.
Needless to say, I bought the album. I still have that old cassette, but I'd played it so much, the lettering is worn off the plastic. And for the few weeks I was home during the summer, I played it. All. The. Time! So much so that even my dad grew to like one of the songs ("Jaded Heart"). And my dad didn't normally like the music I listened to, so that was definitely a win. Just like Dokken's previous albums, I loved every song.
Why did I love Dokken so much? I'm certain most of the reason is because of Lynch. Although he wasn't the only songwriter attributed on the album, it's his sound that's the basis for the music. And I know that my love of his music was a big part of my hardcore crush on him. His looks definitely didn't hurt. 😀 And, like any true obsessed fangirl, I learned every thing I could about him—mostly through articles in Hit Parader and occasional news on MTV.
But fast forward to today. Lynch is probably one of the hardest working guitarists out there, but I don't think he thinks of it as work. It's what he loves to do—writing and playing live music and designing custom guitars.
I could go on and on, because that gushing fangirl is still inside me somewhere, but how about I get to the point here instead? And this is it:
George Lynch is probably the biggest reason why I write rock star romance. Sure, there were other rock stars I loved and appreciated, but Lynch is the one who really ignited in me a hardcore love of rockstars—head to toe, brain to body. He was my ideal rock star. When the stories of tension in the band came to the surface (over a period of years), I always sided with Lynch…because his music spoke to me.
It still speaks to me.
(And fun fact for anyone out there who is new to me: The summer of '86, listening to Dokken's Unchain the Night album over and over and over, I wrote the book that would eventually become my bestselling book Bullet.)
Hubby and I sometimes discuss music, and I'm an affirmed music snob. I like what I like and there's a lot of music I don't. Sometimes, he'll say, "But how can you not like this song? The words are beautiful."
"I can't get past the music. I hate the music, so I'll never listen to the words."
And that's the truth. The words never get a chance if I don't like the music. Why I love certain tunes and hate others, I have no idea, but I know what I love, and the lyrics have little to do with it. The music speaks to me first. And Lynch's guitar soothed my soul. It still does.
So huge thanks to George Lynch for inspiring me to write rocker romance novels!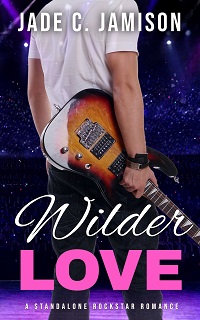 My latest rockstar romance is Wilder Love, a story about Madison, a freshman in college. (Side note: Oh, God! This sounds familiar!!! lol) Elijah is the road weary rock star. He's having problems with his band and his wife. He has a baby girl and his wife needs to go into rehab…meaning he really needs a nanny—and Madison gets roped into his life.
Needless to say, Elijah eventually splits with his wife and he and Madison can no longer deny their attraction for one another.
But there's a big age gap between them—and that's just one of the things that they have to grapple with as they decide if they're meant to be together for good.
And that sounds a lot like another age gap there was back then with this here fangirl.
But all this is to say…even though I hadn't put this in as a dedication when I first released the book, I'm adding one now. It's not the first time I've dedicated a book to a rock star (Vagabonds, for instance, is one of many!), so that's nothing new…but I guess I should dedicate my book to someone who influenced me at the tender age of eighteen and continues to speak to me through his music. My dedication will thank him for touching my heart and my life more than I can truly say in words.
If Lynch ever writes a memoir, you know I'll buy it! But, hey, if he ever needs an author to help him write it, I volunteer. For FREE!!!
Anyway…enough fangirling for today. If you want to pick up Wilder Love, it debuted on Amazon June 13, but the price goes up soon. (And the dedication will be added soon!) I'll probably take it wide after the ninety-day Kindle Unlimited period so all my readers can pick up a copy.
Thank you as always for your continued love and support…meaning I'm relieved to know I'm not the only crazy fangirl out there.
ROCK ON! \m/