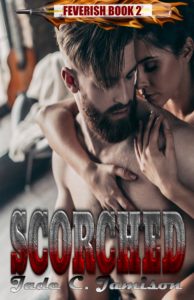 Scorched
(Feverish #2)
Jade C. Jamison
Release date: September 25, 2017
Genres:  Contemporary romance, new adult, rock star romance
Audience:  18+ due to sexual situations and adult language
Blurb
When you play with the Devil, you're going to get burned.
When Sam Archer, bad boy rock star, decides to move out of the city and do some soul searching, the last thing he expects to find is his new neighbor Gracelyn Ward.  She's everything he's not—19 years old, religious, and an obedient child—but he finds himself falling for her anyway.
Gracelyn Ward has always had a crush on Sam—who hasn't?  But she never thought he would be moving next door to her family and end up being so…likeable.  Sam is everything Gracelyn's parents never wanted for her, not to mention that he's over 30.  Despite her better judgment, it's not long before she's falling in love and beginning to question everything she's ever held dear in her life.
When her parents give an ultimatum, Grace and Sam are torn between desire and obligation.  Will they succumb to the fire or will they get scorched by the flames?
Links
Amazon: https://www.amazon.com/dp/B075PKJMTQ
Amazon UK: https://www.amazon.co.uk/dp/B075PKJMTQ
Amazon CA: https://www.amazon.ca/dp/B075PKJMTQ
Amazon AU: https://www.amazon.com.au/dp/B075PKJMTQ
Barnes & Noble: https://www.barnesandnoble.com/w/scorched-jade-c-jamison/1127133247?ean=2940154866498
Apple: https://itunes.apple.com/us/book/id1287799401
Kobo: https://www.kobo.com/us/en/ebook/scorched-31
Google: https://play.google.com/store/books/details/Jade_C_Jamison_Scorched?id=q6c2DwAAQBAJ
Please note that the book will be available for wide distribution from pre-orders through September 26 only.  Then the book will be in Kindle Unlimited for three months before being available everywhere again.
Excerpt
"You have a great singing voice, did you know that?"
Sudden crippling shyness grabbed her around the heart as it started pounding hard, but she forced herself to swallow. What she thought was happening wasn't really happening, was it?
She felt herself titter, unable—maybe even unwilling—to believe it. "Nah. I'm just acting. See, that's the cool thing about actors—"
But then Sam's face was right in front of hers and there was no denying what was going on. "You are adorable."
Adorable? She got ready to retort, to ask him if he meant like a kitten, but his lips brushed against hers and any and all thought escaped her head. The only thing there was the leftover melody of GNR floating around her brain pan, but the rest of her was thoughtless…
And focused.
Her heart felt like it had jumped in her chest as she felt tiny snowflakes hitting her cheeks, making Sam's lips feel so warm, they were almost hot. It was just a small, slow feathering touch against hers, enough that she could even pretend it wasn't happening, but her lips parted in response.
For a bigger excerpt, you can read a full chapter here!
The Feverish series
Feverish (#1)
Boiling Point (#1.5)
Scorched (#2)
The Feverish series is a spinoff of…
The Bullet series
Bullet (#1)
Rock Bottom (#2)
Feverish (#3)
Fully Automatic (#4)
Christmas Stalkings (#4.5)
Slash and Burn (#5)
Locked and Loaded (#6)
***
If you need any other info, please don't hesitate to email Jade (or use the contact form) and she will get back with you ASAP.  Thank you for your interest!